The practice
Workplace
Getting lawyers back to the office
Encouraging a strong office culture is better than droning on about productivity.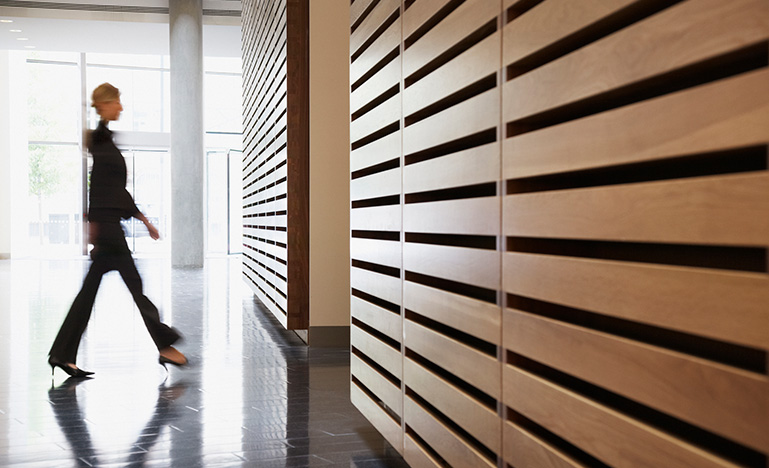 Some lawyers who have settled into working from home over the past two years are now reluctant to return to the office, leaving law firms to grapple with the future of legal work in the post-pandemic era.
Charles Hurdon, the Canadian managing partner at Norton Rose Fulbright Canada LLP, says his law firm had a policy on flexible working arrangements before the pandemic, which allowed them to quickly transition their employees to work remotely.
"We were one of the first law firms to close our doors early in the pandemic," he says. "Like everyone, we scrambled as soon as the offices were closed to get all of our people set up remotely. Within a period of about a week, we had the vast majority of people up and running remotely. And within two weeks, it was pretty seamless."
Over the past two years, most lawyers at BLG have gradually returned to working in the office at least some of the time, depending on their individual circumstances, says Andrew Harrison, the regional managing partner at Borden Ladner Gervais' Toronto office. He notes that before the pandemic, "far and away the default was that people worked full time in the office."
"There is very much a spectrum," he says. "You go from say, a young single person who is living in a bachelor apartment and has a huge desire to get out and see people and not be stuck 24/7 in the same small space. In the other extreme, you may have a person and their spouse with small children, and they are equally keen to get out because that provides a place where they can focus on working. Then you've got people whose kids have grown up and left home, so they are working from home and there are really no constraints. In fact, that's where it's more convenient than it ever was to keep doing that."
Now, more than two years after the pandemic began, law firms face a future where their employees have become accustomed to remote work.
"As much as it was an effort to get people out of the office, it's been an equal effort to get people back in the office," says Harrison, adding that lawyers are now expected to come in the office an average of two days a week.
But the firm's policy is designed to be flexible, he says. "We are not having people punching time cards. The intention is that there is a minimum in-person presence that we feel is necessary for the firm to function in an optimal way."
Charles Hurdon, the Canadian managing partner at Norton Rose Fulbright Canada LLP, says his firm is also dealing with lawyers wanting to work from home.
"We're encouraging our people to be in the office two to three days a week depending on the office jurisdiction," he says. "We're not enforcing that in any real way; we are just asking for people's compliance at this stage. And what I'm seeing now is a good chunk of our people are coming back a couple of days a week."
Some lawyers are "quite reluctant" to come back, particularly those who commute to work or rely on public transportation, says Hurdon.
Some firms have begun enforcing mandated in-office attendance, but Hurdon and Harrison say they want to avoid this approach.
"We are going to go from encouragement to stronger encouragement," says Hurdon. "We are going to try to avoid getting to a place where we are telling people, 'You must, you must.'"
Harrison says his law firm's approach is to "work with carrots, not with sticks."
"We really tried to think about why people might want to be in the office to provide a bit more of a purpose for people coming in for two days a week," says Harrison. "On those days, you would expect to have a practice group meeting, team-building exercise, or social event, or meeting with mentors."
The personal interaction in the office can be beneficial for both law firms and the lawyers themselves, Harrison says.
"There is a benefit to physical contact and those serendipitous connections that you can't make on a web call," says Harrison. "If you have an in-person meeting, inevitably, people will arrive a little bit early or linger a little bit after, and there is unstructured discussion. Whereas with video calls, everyone is exactly on time, and when the call ends, everyone is gone, so you lose those types of interactions."
The advantages are especially felt in mentoring, training and developing a strong office culture, says Hurdon.
"If you have people working entirely remotely, it is hard for them to feel a connection to the business," he says. "Most of those people will start to feel like independent consultants and as if they don't have any tie to the business other than remote connectivity," he says.
When encouraging reluctant workers to return to the office, law firms should avoid focusing solely on productivity, Hurdon recommends. "What most of the major firms have proven is that you can have a very successful year with people not in the office and people working entirely remotely," he says. "If you have been really productive with your business in a completely virtual environment, the argument cannot be that you need people back for productivity. The argument has to be that you want people back because you want to continue to build a strong culture, you want people to have connections with each other, and connection with the business."