Law
Opinion
Why carceral feminism will not lead to justice
More policing can also exacerbate the harms of gender-based violence.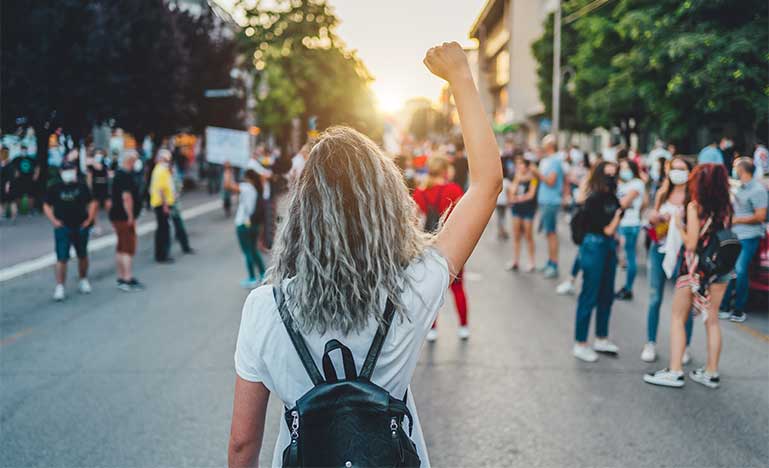 The solutions offered in response to violence against women often come from the criminal legal system. We hear calls for police to arrest the perpetrator, for prosecutors to put him (and it's almost always "him") on trial, for judges to lock him up.
At first glance, these can seem like attractive reactions for lawyers who consider themselves feminists: We're looking for a sense of justice and to avenge senseless acts. What's more, we're taught that "justice" is inherent to the criminal justice system. But so is systemic racism against Black and Indigenous people.
This is why it's essential to critically examine the kinds of gut reactions described above — those that instinctively rely on policing and incarceration in answer to patriarchal violence.
The problem with these reactions is that they risk perpetuating harm rather than curing it. They fall into the trap of "carceral feminism," a label used to describe those who seek collaboration with "that part of the government most associated with the institutions of police, prosecution, courts, and the system of jails, prisons, probation, and parole," as described by Dr. Mimi Kim. (It's also worth interrogating who has the luxury of carceral feminism; for many BIPOC women, putting faith in the criminal legal system has never been an option.)
Three recent and devastating incidents help demonstrate why reactions grounded in carceral feminism will not lead to justice.
I want to start with Breonna Taylor. In March 2020, Louisville police, who had a "no-knock" warrant in connection with an investigation into drug dealing operations, killed Taylor after forcing entry into her apartment while she was in bed (none of the officers have been charged in relation to her death). Over the summer of 2020, amidst worldwide Black Lives Matter protests, a rallying cry took over social media: "Arrest the cops who killed Breonna Taylor." The trouble was, those well-meaning posts often came across as performative punchlines, not substantive calls for change.
Mariame Kaba and Andrea J. Ritchie wrote an article about Taylor that I've been thinking about ever since. "[W]e want far more than what the system that killed Breonna Taylor can offer," they explained, "because the system that killed her is not set up to provide justice for her family and loved ones." Writing from an abolitionist perspective, Kaba and Ritchie acknowledged that "individuals, families, and communities…are entitled to decide on their own paths for justice – including seeking justice in courts and criminal punishment." But they cautioned that "[f]ocusing on arrests leaves the whole system intact." Instead, they encouraged "a broader and deeper conception of justice" and accountability, citing a "reparations framework" built on the elements of "repair, restoration, acknowledgment, cessation and non-repetition."
Almost one year after Breonna Taylor's death, in March 2021, Sarah Everard was killed in London, England while walking home from a friend's house. A Metropolitan Police officer has been charged with her murder.
As organizer Maya Bhardwaj asked, "Discussions initially shifted to the need for more policing, to better protect women from violence. But the man charged in Sarah Everard's case was a London policeman himself. So who do you call when the police is the perpetrator?"
Everard's murder coincided with the UK Parliament's consideration of a new Police, Crime, Sentencing and Courts Bill that — among other items of concern — would give the police greater powers, including "to criminalize protests they deem a 'public nuisance.'" Both of these events sparked protests, which in turn were met with violent police responses. And yet the bill is now delayed in Parliament, protests are continuing, and the UK feminist group Sisters Uncut, which has been organizing on issues of violence against women for years, is now gaining international attention with its abolitionist stance.
Finally, to Atlanta, where on March 16 a gunman killed eight people at three spas, including Soon Chung Park, Hyun Jung Grant, Suncha Kim, Yong Yue, Delaina Ashley Yaun, Paul Andre Michels, Xiaojie Tan, and Daoyou Feng. Six of the victims were Asian women who worked at the targeted businesses.
The conversation immediately turned to whether these attacks were hate crimes under Georgia law. Other reactions focused on how the legal system has, itself, been a source of harm. A community statement from several Asian Canadian organizations commented that Atlanta was "not an isolated incident, but a horrific example of a large rising tide of anti-Asian racism."
The statement went on to note that "Asian women are disproportionately impacted by racialized violence," by municipal restrictions on massage parlours and other businesses; and by insufficient legal protections for sex workers and migrant workers.
The organizations expressed their continued demand for "respect, dignity, rights and protection for Asian and migrant women, sex workers and women working in massage parlours." They also made it clear they were not demanding "increased policing or enforcement, recognizing that more policing has often exacerbated harms and has failed to demonstrate a commitment to protect and advance the rights of Asian and migrant sex workers, Black and Indigenous communities and migrant communities at large."
Each of these tragedies — from Louisville to London and Atlanta — has provoked complex reactions that wrestle with what justice means and what accountability looks like. Feminists, particularly white feminists, responding to gender-based violence, need to critique carceral responses tied to the criminal legal system. Even if we don't have all the answers, we can start by checking our gut reactions — and asking the right questions.
Correction: An earlier version of this article stated incorrectly that Breonna Taylor had been shot while she was sleeping. She was standing in the hallway next to her boyfriend when she was shot. We regret the error.