Law
Rule of law
Party platforms on crime and justice
CBA National summarizes the most relevant pledges affecting the legal profession.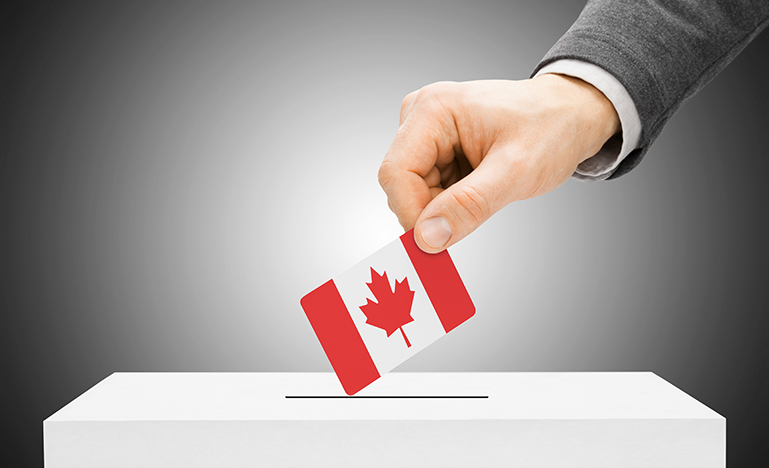 Lawyers know well that government decisions loom large in their impact on the community and legal profession. Justice issues are sometimes perceived as strictly related to criminal law. But an election platform can touch on many aspects of our practices, as well as influence how lawyers run their business.
All five major parties have published positions on justice issues. With the October 21 federal election nearing, here is a non-exhaustive list of the priorities of the various parties.
Criminal Justice
Liberals
Justin Trudeau's Liberals promise to create a national definition of elder abuse, with better data collection and law enforcement, and to legislate new penalties in the Criminal Code.
They also propose to ban all military-style assault rifles, with a government buyback program for such weapons legally purchased in Canada. They would suspend temporarily firearms licenses of those suspected of posing a danger, and increase penalties for gun smugglers. Trudeau also wants to work with provinces and territories to allow municipalities to restrict further or ban handguns.
Conservatives
The Conservatives propose to hold repeat gang offenders without bail and revoke parole for gang members who associate with other gang members. An Andrew Scheer government would also create new offences for committing and ordering violent gang crime, with mandatory sentences in federal prison. It would maintain a list of proven criminal organizations.
The Tories would impose federal prison time for knowingly possessing a smuggled gun and for selling guns to prohibited users. That offense would incur a lifetime ban from owning firearms for "straw purchase" convictions.
Scheer's party would also add aggravating factors to the sentences of crimes that target rural victims because of their remoteness from police stations.
The Conservatives have identified a number of areas for longer prison sentences, including sexual assault or sexual interference against children and people with disabilities.
A Scheer government would require full body scans for those who enter prisons, end the practice of giving unescorted day passes from prison, and end the needle exchange program for prisoners. Conservative party promises on the corrections system include reviewing prison skills training programs, tying parole eligibility to job skills training, and replacing statutory release with earned parole. Convicted murderers would ineligible for parole without identifying the location of the body of their victim.
NDP
The NDP promises to reduce reliance on mandatory minimum sentences and return discretion to trial judges. It would expunge criminal records for Canadians convicted of minor cannabis possession. It would declare a public health emergency to allow those struggling with addiction to get help, with stronger laws against those who traffic in and profit from illegal drugs.
The party also wants a national task force to develop a roadmap to end chronic over-representation of Indigenous peoples and Black Canadians in federal prisons. It promises to increase judicial discretion in sentencing, develop culturally appropriate bail programs, expand restorative and community justice programs, and better integrate Gladue principles in court proceedings.
Greens
Elizabeth May's party would eliminate solitary confinement and mandatory minimum sentences. The Greens want to reform the process of record suspensions for simple possession of cannabis and other offences. They would launch a confidential buyback program for handguns and assault weapons, and invest in prisoner rehabilitation and reintegration, especially for Indigenous persons.
Bloc Quebecois
No plans announced at publication date.
Access to justice and equality
Liberals
Trudeau's Liberals promise free legal aid for survivors of sexual assault and intimate partner violence. They would pour an additional $30 million in a National Action Plan building on the completed Gender-Based Violence Strategy. They promise to implement the United Nations Declaration on the Rights of Indigenous Peoples (UNDRIP) in the first year of a new mandate. They also want to create new National Treaty Commissioner's Office to implement the Truth and Reconciliation Commission's (TRC) Calls to Action, and the National Inquiry into Missing and Murdered Indigenous Women and Girls' (MMIWG) Calls for Justice.
Conservative Party
The Conservatives promise to increase the Canada Social Transfer to provinces.
NDP
Leader Jagmeet Singh has promised to increase federal funding for legal aid programs across the country. He supports implementing the MMIWG's Calls for Justice, UNDRIP and the TRC Calls to Action. The NDP also promises a framework for reconciliation grounded in the UNDRIP.
The NDP wants to work with the provinces and territories to develop and enforce effective employment equity legislation. It would develop and fund a National Action Plan to combat gender-based violence. It also supports ending the blood ban, prohibiting conversion therapy for minors in Canada, and provide public funding and equal access to gender-confirming surgery across the country. It would amend the Employment Equity Act to add sexual orientation, gender identity and expression.
Greens
The Greens want to reform the framework for Canada's superior courts to make civil and family justice services more accessible. They would Implement federal pay equity rules.
They would also implement UNDRIP, the TRC's Calls to Action, and recommendations from the MMIWG Inquiry.
They promise to repeal federal laws and policies that are discriminatory on the grounds of sexuality, and reform sex work laws with a focus on harm reduction. They would end the blood ban, and prohibit the practice of medically unnecessary surgeries on intersex children, as well as of conversion therapy.
Bloc Quebecois
The Bloc would implement UNDRIP, work toward the administrative autonomy of Indigenous communities, and have Indigenous police recognized as essential services under the law.
System reform
Liberals
The Liberals have promised to co-develop a legislative framework for First Nations policing. They would provide funding to provinces and territories to hire up to 425 new Crowns and 225 new judges and create an independent Criminal Case Review Commission to address wrongful convictions. They would require mandatory training for all judges on sexual assault, unconscious bias and cultural competency. They'd fund an additional $11 million over four years to provide officials in enforcement and security agencies with training in unconscious bias. They promise to work with provinces and territories to establish a Community Justice Centres program and invest further in the Canada Centre for Community Engagement and Prevention of Violence. They would require all social media platforms to remove illegal content, including hate speech, within 24 hours. They propose to reintroduce legislation to create a review body for the Canada Border Services Agency. They would move forward with Canada's Digital Charter, overseen and enforced by a more powerful Privacy Commissioner. Finally, they'd promise to implement the recommendations of the McLellan review into the dual role structure of Canada's attorney general and justice minister.
Conservatives
The Tory plan would require people detained under provincial mental health legislation to have their firearms seized until their condition has stabilized. They want to provide resources to the Canadian Firearms Program for stronger background checks, and encourage firearms manufacturers to improve traceability and require ballistic data required for crime guns. Conservatives propose to repeal Bill C-71, An Act to amend certain Acts and Regulations in relation to firearms.
A Conservative government would require all judicial appointees to take sexual assault sensitivity training prior to taking the bench.
The Conservatives say they would properly resource the RCMP crime lab, share costs for anti-gang law enforcement initiatives with provinces and territories, and create a Police Infrastructure Grant for new equipment for municipal policing agencies. Scheer also intends to increase funding for the Youth Gang Prevention Fund by 25%, and provide $60 million over five years to fund anti-gang task forces.
The Conservatives promise to launch a judicial inquiry into the SNC-Lavalin matter and begin a public inquiry into money laundering that has the effect of driving up real estate prices.
NDP
The NDP's plan focuses on upholding the importance of community based and restorative justice approaches, supporting community-led initiatives to prevent youth from falling into violent extremism, and funding for communities for anti-gang projects to deter at-risk youth from joining gangs. It would ban 'carding' by federal law enforcement. It proposes to work with the RCMP to retain trained members and provide a harassment-free work environment, to promote domestic violence leave policies in workplaces, to improve police training on sexual assault, and to require universities to develop plans to end sexual violence on campus. It wants to establish a dedicated hate crime units within local police forces and a national working group to counter online hate and increase the power of the Privacy Commissioner to make and enforce orders. Singh has pledged to increase penalties in the Conflict of Interest Act, ban cash-for-access events, and prohibit corporations facing criminal charges from lobbying elected officials. The party also wants to launch an independent public inquiry into the SNC-Lavalin matter.
Greens
May promises to partner with Indigenous Peoples to create an Indigenous Lands and Treaties Tribunal Act. She supports processes for self-governing Indigenous Peoples and nations to transition away from the Indian Act, and would implement 1996 Report of the Royal Commission on Aboriginal Peoples. The Greens would increase the powers of the Privacy Commissioner, and require companies to grant access to all information on individuals, and to delete personal information from their databases when asked by that person. It would create mandatory data breach reporting for all government departments, companies, banks and political parties. On the cyber front, it would prohibit surveillance and bulk collection of data by intelligence and police agencies. The Green Party would strengthen the Lobbying Act, develop a clear framework for Deferred Prosecution Agreements, implement the recommendations of the McLellan Report, and reject back-to-work legislation as a bargaining tool.
Bloc Quebecois
Leader Yves-François Blanchet wants to improve judges training to better deal with sexual assault cases, legislate an anti-strikebreaker law, negotiate a deferred prosecution agreement with SNC-Lavalin, and increase protection of personal information.
Civil justice
Liberals
The Liberals say they will implement the Act Respecting First Nations, Inuit, and Métis Children, Youth and Families, and promise to work with First Nations to ensure that the Indigenous Languages Act is fully implemented, and to redesign federal policies on additions-to-reserves. It would focus its immigration recruitment on highly skilled people and work with the U.S. to modernize the Safe Third Country Agreement.
Conservatives
Scheer calls for changes to the Safe-Third Country Agreement with the U.S. so that migrants having crossed into Canada by avoiding border checkpoints cannot claim refugee status. The Tories' plan emphasizes economic immigration, would reform the refugee system to prioritize people facing true persecution, and work to more quickly reunite survivors of genocide who have already resettled in Canada. The party would reintroduce the Office of Religious Freedom, and work with provinces and territories to remove barriers— such as statutes of limitations—for victims of crime to take civil action.
NDP
The NDP would legislate rights to high-quality, public childcare, to a healthy environment and to housing. It would prioritize family reunification by ending cap on applications to sponsor parents and grandparents, regulate immigration consultants, and resettle people forced out of their homes by conflict, persecution, and disasters. It promises to suspend the Safe Third Country agreement with the U.S.
Greens
The Greens would eliminate the Temporary Foreign Worker Program and address labour shortages by increasing immigration. It wants a Civilian Complaints and Review Commission for the CBSA and to terminate the Safe Third Country Agreement. It would regulate the immigration consulting industry, with increased penalties for consultants convicted of human smuggling. It would try to define the term "environmental refugee" and accelerate family reunification.
Bloc Quebecois
The Bloc would grant Quebec a veto on any federal decision to expel refugees, disallow deportations to countries where lives could be put in danger, and suspend the Safe Third Country Agreement. It would increase the number of immigration commissioners in Quebec.
Business of law
Liberals
The Liberal platform includes reducing the cost of federal incorporation to $50 from to $200, and giving $250 to every new business looking to expand their online services.
Conservatives
They promise to repeal 2017 tax changes to small business investments and dividends and reduce small business regulations.
NDP
The NDP would end the unfair tax treatment of family transfers of small businesses, raise corporate income taxes from 15 to 18 percent, and the capital gains inclusion rate to 75 percent.
Greens
The Greens would close the stock option loophole, provide funding to the Canada Revenue Agency to collect tax revenue hiding in offshore tax havens, and increase the federal corporate rate from 15 to 21 percent.
Bloc Quebecois
The Bloc would change tax rules that disadvantage the transfer of companies to succeeding generations.