Legal Market
Legal Tech
Data's power to transform legal work
There's an opportunity for young lawyers who embrace analytics to ride the next wave of careers in the profession.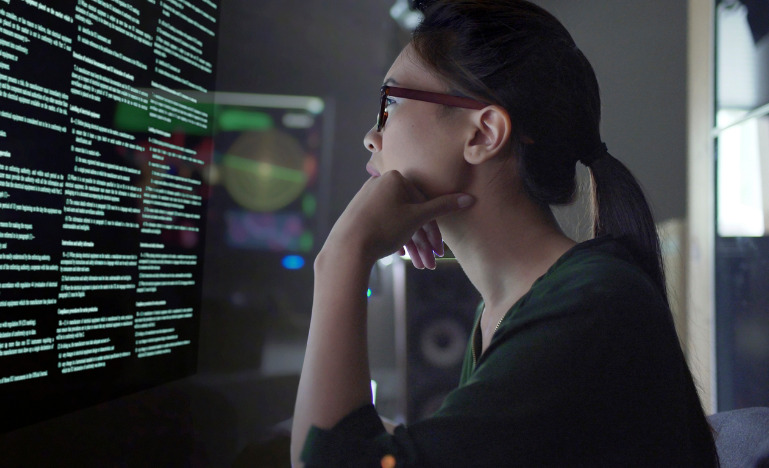 As an articling student at Ottawa-based KMH Lawyers, Peter Zachar sees applications for the use of data science almost daily in his work.
"At every step, I see ways that data science can provide insight into the kind of work that we're doing," says Zachar. "I see how it would streamline things and provide analytics virtually across the board in what I am doing."
For example, he says data science is "perfectly suited" to looking at thousands of wills to see how they have been prepared and which ones led to litigation and what wording resulted in that litigation.
"It could be the same with factums — data science could be used to see what works, what doesn't and what language was used that led to positive outcomes and what missed the mark," he says.
Zachar's keen interest in using data science in law grew after signing up for associate professor Wolfgang Alschner's Data Science for Lawyers elective in his first year of law school at the University of Ottawa.
As someone who did graduate studies in neuroscience, Zachar had been drawn to applying scientific approaches to solving problems in the law.
"I become increasingly excited about the idea that essentially everything we deal with in the law is also data. In the past, data for me was spreadsheets with numbers, but Wolfgang's course opened my eyes to the fact that words are data just as much as anything else," he says.
In class, students analyzed various trade agreements and used data science to compare clauses in provisions across treaties Canada has with multiple countries.
"My group focused on e-commerce provisions in trade treaties. We looked at similarities and differences, and you can generate various measures of how similar they are. The take-home is that kind of approach saves a tonne of time. Instead of reading hundreds of treaties, we automated the process to give us initial insights and target future reading," he says.
Professor Alschner is a faculty member of the Common Law Section and a member of the Centre for Law, Technology and Society at the University of Ottawa and heads the UOttawa Legal Technology Lab. In January, his course Microprogram in Law and Technology will be offered to students of law, lawyers in law firms, researchers or anyone looking to develop expertise in law and technology.
"The reason I'm teaching this course is that there are very few established lawyers who are also computer scientists or who are comfortable with technology. This is an opportunity for young people who are digital natives to make their mark on the legal profession," he says.
Law student Nicolas Kasting wants to be one of the new generation of lawyers who understands how to leverage data analytics in his legal work.
"I'm hoping to be a litigator and do conflict resolution," says Kasting, who has also taken Alschner's course. "I think the place that technology can have an impact is in sifting through large amounts of documents quickly. It's no secret there's an access to justice issue in terms of being able to litigate things relatively quickly and relatively inexpensively."
But getting access to the data and crunching it is only half of the equation.
"The analytics will show you certain patterns, but then you have to do proper legal analysis and make good legal conclusions," says Kasting. "I think in the long term, it can certainly free up a lot of the more tedious work lawyers do and hopefully open the door to helping people who face immigration or family law services that are inaccessible to most people today."
Alschner says many students take the course to see "what the hype is all about" and to alleviate any concerns about robots replacing lawyers in the future.
"They should see technology more as an opportunity and not a threat," he says. "These types of tools can be used in legal practice and for startup ideas. It's often a very creative experience for many of them."
New job opportunities for lawyers
With less of a need for an army of young lawyers to do manual document review, Alschner says the profession and law schools need to train lawyers to fill the gaps emerging as technology replaces tasks that once consumed many billable hours.
"We used to have this pyramid structure where you needed a lot of junior lawyers to go through contract and compliance proceedings or do other types of menial work. That is being continuously replaced through technology," Alschner says. "You may have e-discovery algorithms do the text mining instead of the young lawyers. We need these cross-disciplinary skillsets of a legal data scientist or legal technology engineer — people who understand the technology and can identify how you can leverage it in practice. We will have more lawyers training in these technology and law disciplines."
This need for interdisciplinary skills has legal professionals considering part-time data science courses and even certification in data analytics. College and university departments beyond law school are beginning to understand they too have a role to play in preparing a future-ready legal workforce.
The other piece of the puzzle: Access to data
But having the tools and knowing how to mine legal data isn't enough. Having access to a greater pool of useable legal data is still a challenge in Canada.
"The technology is cheap — if you know a little bit about programming, you can easily find an algorithm online or go to our website and copy the code and run it on your dataset, but if you don't have the data, you cannot do this," Alschner says.
He points to a new initiative as a game-changer that seeks to improve on that challenge. The Legal Innovation Data Institute (LIDI) is a non-profit open data project founded by Colin Lachance, former president and CEO of the Canadian Legal Information Institute (CanLII) and vLex. LIDI aims to provide greater access to Canadian legal data not currently available.
Right now, decisions from entities such as the Human Rights Tribunal of Ontario is not openly available. Lachance says many have approached courts and tribunals in Canada to ask for data and have been told no. The courts generally don't have the infrastructure to support providing wholesale access. They are also concerned about the privacy of the data being supplied in bulk.
"We exist to approach the Human Rights Tribunal of Ontario to make it possible for companies like Blue J Legal or Kira or ROSS Intelligence to build tools on top of it," he says. "Or for Clio to build integrations for practice management. We want to pave the road so other people can build the next level of innovation that addresses the risk and concerns that have prevented the courts from pushing this information out more broadly," he says.
"Colin is crucially filling a gap that will hopefully fuel a legal technology ecosystem in Canada," says Alschner.
LIDI's structure includes members, research partners and supporters. Members pay dues to support the mission of making more data open for creation — membership is $20,000 a year. Research partners include the Conflict Analytics Lab at Queen's University, the Legal Technology Lab at UOttawa and Alberta Machine Intelligence Institute. LIDI is working with them to improve the quality of the data and help them create new advancements in tools and natural language processing, so it becomes easier for creators to build more and faster. A supporter is a person or company that wants to sponsor access for someone else.
Lachance says law firms in Canada that have embraced analytics tools are "in a good state of readiness" to take part in what LIDI is doing.
"We only approached three law firms as we were developing this — one international, one national and one regional. They were all very interested. One of them said no, but the other two see the value, and they're essentially looking to make the internal business case to implement this," he says.