Legal Market
Legal Tech
Law firms adopting AI
The technology is finally making inroads in law firms as clients seek cost-effective solutions.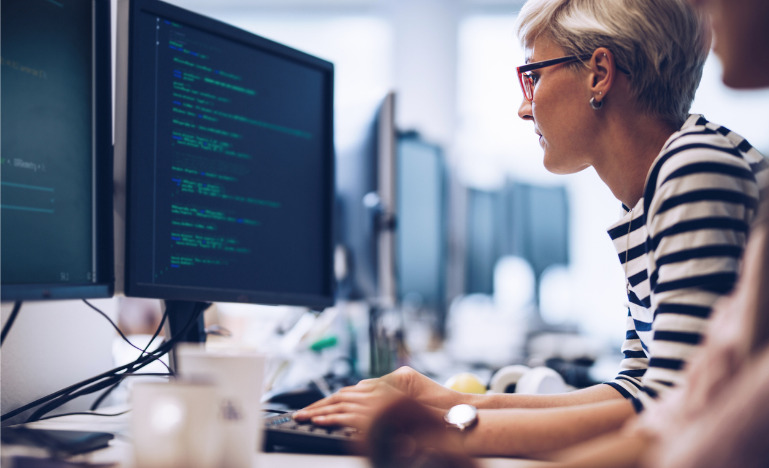 The pandemic has fast-tracked the adoption of artificial intelligence (AI) in a number of industries, and law appears to be no exception.
Much of it is driven by clients, who have shown a willingness to embrace the technology like never before. In both litigation and transactions, a growing number of them expect their law firms to use AI tools to cut costs on predicting outcomes and document review.
And as far as AI adoption is concerned, the pandemic has proven to be a rare silver lining, says Tilly Gray, a partner at Cassels. She is also the co-founder and lead of the firm's business improvement division, known as FourLines. In 2020, the firm is projecting a 90% annual growth rate in the use of its services, which leverage AI tools, on transactional matters.
"That is indicative of many things, including the current environment and acceptance of cloud-based technologies and the need for creative workarounds now that we're not in traditional bricks and mortar and paper-based practices," says Gray.
In addition to cost reductions, AI also appeals to clients because things get done faster.
"If you can get them comfortable with the fact that this is the way we're proceeding, they're happy to have the work product delivered to them that much faster with the same accuracy and quality," Gray says.
Growth in the use of AI has also been "exponential" in litigation discovery at Lenczner Slaght Royce Smith Griffin LLP.
"Where we are seeing AI as a game-changer is in the review of data and looking for relevant information and being responsive to legal requirements. It's very much changed the way we do document discovery and made it much more cost-efficient and affordable for clients," says Sarah Millar, discovery counsel at Lenczner Slaght.
"We do a lot of construction work, and it involves massive projects with massive amounts of data, says Millar. "Where we have found AI to be very effective recently is on document production where we trained the machine to recognize what was a relevant document for our purposes, and it created the production set for us. A standard old school linear review of the data set would have been about $700,000, and our methodology, process and software costs were about $250,000."
Dispensing with concerns
There are no threshold needs to be met to have work processed through the FourLines team at Cassels and, in particular, using its AI-based document review platform. The team determines fit on a case-by-case basis. It considers the volume of documents, the divergence of the document set, client deadlines and interests, costs, the purpose and scope of the review and restrictions imposed by outside counsel.
Gideon Christian, an assistant professor at the University of Calgary Faculty of Law, does research in law and technology, specifically on e-discovery and artificial intelligence and law. He says AI can make predictions better than humans if the tools are properly trained, but a vast amount of data is needed.
"If the number of documents is too small, you may not have enough to train it," he says. "If the size of the litigation is large, that is where AI can be a viable tool because you use a small portion of a large document set to train it to make accurate predictions."
Gray says that clients sometimes ask to see a demo of the platform to conceptualize how it works. "It's not as simple as the documents go in, and the work comes out. There is a larger process that allows the client to get comfortable with the fact we're not replacing humans. Because there is a human component with AI-assisted review, that makes it a little less fearful for them," she says.
Cassels tried several AI review platforms before landing on the one it currently uses, and which claimed to save up to 90% of the time typically spent on specific due diligence processes.
"We piloted it alongside others and folded in proposed staffing models we thought would offer a better way of handling the process and compared it to a historic deal we had metrics on," says Gray. "We used two pilot groups made up of different legal professionals, and for both of them, the review time was almost cut in half. That got our attention – to see how powerful it could be the first time using it."
As these software tools quickly gain currency in the industry, legal professionals are considering taking courses in machine learning and even in programming languages like Python. Their aim is not necessarily to code, but to understand and manage AI's potential within the law, even as they work with third-party technology providers to realize it.
Different applications
To illustrate how AI can be effective, Gray presents two scenarios. "If you consider a needle in a haystack scenario such as finding all the privacy-related provisions and concepts in 1,000 contracts — that kind of review could reveal only 20 documents that are required for review and disclosure," she says.
Alternatively, if you have the same 1,000 documents, you can also focus on what is or what isn't the substantive content of the set of documents. It might be determined that the same large document set cannot meaningfully be culled. The majority of it might be relevant and require review, but there is still value in using the AI-based tech. For example, the platform will distinguish between an agreement and an invoice, or identify the substantive matter of each document (such as employment- or IP-related). And it can identify duplicates and languages other than English.
In this case the lawyers can both a) prioritize the review (especially in a time-sensitive review, focus on agreements before "other"; duplicates eliminated from scope), and b) quickly build a review team based on needs and assign documents in bulk based on their categorization (for example, employment-related to associate in the employment group or French documents to someone who can translate).
"Instead of it being about cutting down what you are going to review, it can focus the assignment of the documents for review," says Gray.
In litigation matters, the traditional way of going through documents line by line, using our eyes, is mostly a thing of the past. But lawyers still have to ensure quality control and train the AI properly, and that's where the cost exists.
"In my view, it ends up being less expensive, and the work product is more consistent – if the information used to train the AI is good information," says Lenczner Slaght's Millar.
Early case assessment can save clients money in litigation costs. Millar points to tools such as Blue Jay Legal for tax and employment law that draws data from the courts to help predict outcomes.
"We use them to assess employment law cases. For a lot of people, it will represent a new doorway to access to justice. It is more efficient to type in the parameters and have the tool spit out an outcome rather than have a student research it for five hours. It makes it easier to deliver legal services cost-efficiently," she says.
Areas for concern
Christian says an area of concern he has for AI is in recidivism risk assessment in criminal law. "Bias is a strong area of concern in the criminal justice system," says Christian. "If data used in training the AI system is biased, the result will also be biased. AI is not a laundry machine – it's garbage in, garbage out."
He notes that if historical data is used to train an AI algorithm, it will likely include data representative of issues in policing and sentencing that treat minorities unfairly.
"People who program the tools may have their own bias of criminality," says Millar. "There are problems in using AI for sentencing. People in marginalized communities are being sentenced for a much longer time, and sentences are much worse because the bias is being built."
Tips for adopting AI tools
Have a short-term and long-term adoption strategy, including staff training. People often forget how to use it when onboarded unless they put it into practice.
Hold bootcamps and hands-on training exercises leveraging what the vendor offers at no cost.
Communication: Understand what you're measuring and monitoring for and get an understanding of what your client is struggling with.
Consider a re-launch to boost adoption – it's a rolling process you have to be mindful of as time goes on.