Legal Market
Partner Firms
When minds matter
Norton Rose Fulbright is making it its business to look after the mental health of its staff and professionals.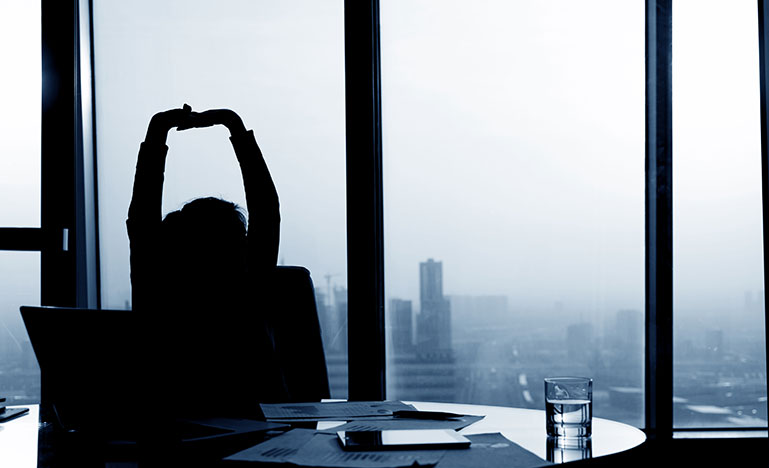 It's no secret that legal professionals face significant challenges when it comes to their mental health. The practice of law is a high-stress job in a competitive environment with demanding clients and punishing hours. For years, and still to this day, lawyers will wear their stress and limitless work ethic as a badge of honour.
But lurking under that pride is an unhealthy lifestyle that the profession has only recently begun to come to terms with.
"I started practicing in 2002 and believe me, the old ways were alive and well then," says William Hlibchuk, a partner in employment and labour law at Norton Rose Fulbright in Montreal. What's forced firms to change the work culture, says Hlibchuk, is the "competition to attract top talent."
"Young lawyers have become more forthright in asking about the supports available to maintain mental health and wellness," he says. "Things only started to change because firms now are chasing after those quality candidates—the full package people—that we're always looking for. And they don't grow on trees. They're exceptional people, and I think any law firm that doesn't take that seriously is doing so at their own peril."
Hlibchuk would know. As one of Canada's largest and most prominent law firms, Norton Rose Fulbright is a draw for top talent.
The most prestigious firms, however, are competing not just with each other for talent, but with the lifestyle and life goals that the next generation of lawyers are seeking. In numerous surveys in Canada and globally millennial-age lawyers and law students are not inclined to see traditional law firms as ideal workplaces. Aly Háji's research on the millennial exodus from law firms indicates that firms don't have the appeal they did to previous generations.
It's this reality, and a coming to terms of the human cost of mental health issues, that has driven Norton Rose Fulbright to provide wellness support to employees. Some take the form of short-term campaigns to increase attention on mental health, and other programs seek to intervene with employees before their struggles become debilitating.
The firm has committed to the Not Myself Today initiative, which provides informational materials, activities and tools and resources, with the objective of encouraging conversations, reducing stigma, and foster supportive cultures.
"That's something that we're committed to as a firm and there's an intensive communications campaign taking place in January," says Hlibchuk. "But we're committed to ensuring that it is not just a flash in the pan three-day session, where we talk a lot about it and then go on to our professional lives and not discuss it anymore."
Being a global firm, Norton Rose also has initiatives such as the Australia-originated Mental Health First Aid Officer Program. The firm has 75 people across Canada who are trained as mental-health first-aid officers —and have signs outside their doors identifying them as such—so they can assist colleagues who may be having difficulty.
In 2018, the firm's global headquarters in London launched the Breathe network, which began deployment across Canada in December 2019. Among other things, Breathe encourages employees to speak about their own mental health journeys. Hlibchuk, who has a Master's degree in social work and experience in recruitment, mentoring, and associate evaluation at the firm, is the national chair for Canada. Another 25 employees have volunteered to participate.
"It's a very broad spectrum of firm members. And quite frankly, I was blown away by how much people are interested in this subject, how much they're passionate about it, and how they're happy that we as a firm has have made this a priority," says Hlibchuk.
Even so, he says his favourite initiative for supporting mental health is Norton Rose's mentoring program—partners who mentor associates—as the "first line of mental health outreach and mental health action."
According to Hlibchuk, mentoring goes beyond a monthly meeting with younger lawyers. Mentors are expected to ask their protégés how they are feeling and provide them with support. They even have the freedom, if they sense that an individual is overwhelmed, to approach partners or supervisors and request to restructure the workload—or at least bring in resources to help the person through a stressful period.
Hlibchuk adds that mentoring is important in helping junior lawyers adapt to the demands of an intense profession, where they not only have to meet strict deadlines but are also required to deliver flawless work.
"Teaching the person to know themselves, teaching them how to express themselves, teaching them how to say no—it's something that every young professional has struggled with, but it's essential in order to be able to preserve yourself," he says. "And that's what's being taught by the mentors on a day-to-day informal basis."
While mental health will always be challenging for employers and employees to address, Hlibchuk says leaving issues unresolved helps neither the firm nor the individual. Employees who are struggling with mental illness may continue to do their jobs, but they are unlikely to be happy or healthy and that situation will affect the individual and the firm.
"It is a tough nut to crack," he says. "But I think that passing the message to people that: it's not only okay to talk about these things, but that they should be talking about it—that's what's going to make those interventions and exchanges between colleagues (happen). And, ultimately, people getting the help they need."