The practice
Workplace
Navigating the corporate space as women of colour
How to help break down ingrained habits.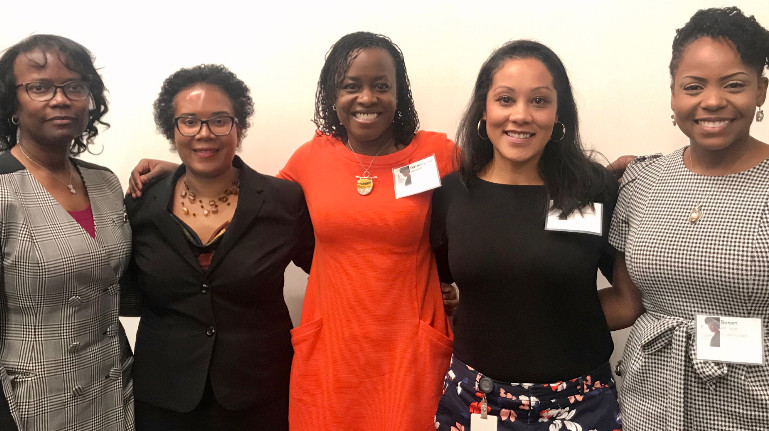 "Being a woman is tough. Being a woman of colour adds a whole extra level of grit." That's how Jessica Upshaw summarized her experience overcoming the barriers at the intersection of race and gender in the legal profession.
Nova Scotia Power's Upshaw was one of five accomplished black female lawyers offering advice at the CBA Leadership Conference for Professional Women earlier this month. The panel, moderated by Susan Johnson of McInnes Cooper's Halifax office, was a collaborative effort by the Canadian Association of Black Lawyers, Dalhousie University, and the CBA National Women Lawyers Forum.
Moderated by Susan Johnson of McInnes Cooper's Halifax office, the panel was a mix of in-house and large firm leaders who delivered relatable war stories and surprises alike.
In exploring how to find one's voice in a male-dominated profession, Johnson asked what worked for them, as women of colour, "in moving up the ladder?"
"The pink ghetto was real in my first job, in government," said CBA President Vivene Salmon. "Men managing and women doing administration – and when I moved to financial services, there were almost no women in the room. The divide is real at firms, too. Men dominate the more lucrative practice areas. Women's voices are missing."
"You have to have the confidence to take on powerful roles. Don't let anyone kill your dreams," says Salmon. "Nobody will recognize your talents for you. Just say, 'if you don't value me, I'm going to value myself,' and you may need to walk to find that better role."
Stewart McKelvey's Candace Thomas had a similar experience. "Choosing corporate law felt like I was letting my community down. Finally, I had to say, 'I've got this. I belong here.' Once I realized I wasn't the only person trying to make changes, I learned to use my voice. I learned that I could have influence one-on-one, or in small groups."
Asked how firms can go about creating a culture of inclusion, Aon's Terrie-Lynne Devonish said it starts with addressing our internal biases. "Your brain, in the absence of facts, will make a judgment. Sometimes those voices can get louder than the truth," she said. "If enough people are asking whether you know what you're doing, you might ask that, too."
Devonish explained how she started writing down "intentional positive messages" and repeating them in the morning. "Stick them on your mirror," she said.
Upshaw said that creating an atmosphere of inclusion means getting over your imposter syndrome. "I still get that sense of 'I don't belong here,' but as the years go by, I know I belong."
All panelists agreed that law firms have to be intentional in their inclusion efforts. "Don't just set targets, but intend to be reflective of your community," said Upshaw. "When I was hired at my first firm, I was the only black lawyer. There's something different about walking into an office and having someone – especially someone in a position of power – look like you."
Thomas cautioned that there is work to be done. "There are still so few of us. We have a long way to go, so it's important to have allies," said Thomas. "And sometimes white women end up doing the same thing that white men have done."
Thomas recounted a story about her first managing partner, a white male lawyer who told her that she belonged at the firm, and that he would make sure she realized that. He went on to bring her to client meetings and eventually referred his clients to her before his retirement.
Thomas said she also connected with "a sisterhood of senior women" she has met along the way. "They give you the confidence to stay positive," she said.
"It's recognizing that you're part of several communities. You need to put in the effort to stay connected with people who sustain you, not just when you need something," said Salmon on the topic of allies. "Law takes a lot of resilience. By its nature, it takes a lot out of us."
"That's why those in power need to take it upon themselves to lift their sisters up," said Upshaw.
"Law is a long career, and a lot of things can happen along the way," said Salmon. "We don't practise in a vacuum – it always comes down to people and communities."