The practice
Workplace
Office life after the pandemic
We are likely to see a lot more flexibility and less real estate.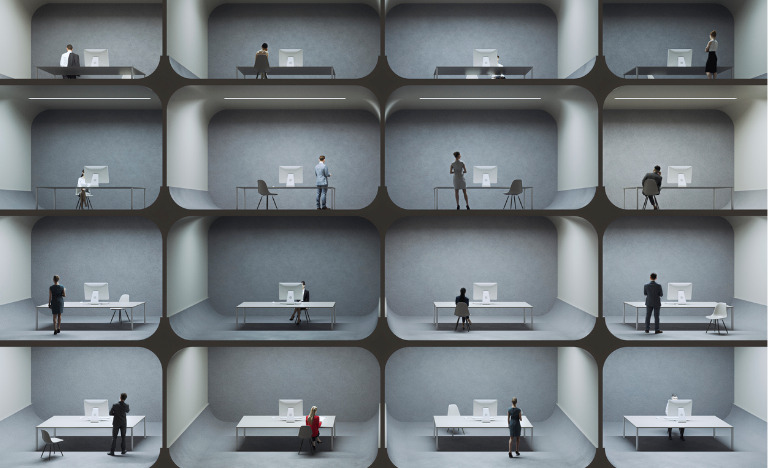 With the rollout of COVID-19 vaccines, a return to the office may be on the horizon for Canadian law firms in mid-2021, but many say they plan to keep flexible work arrangements in place and possibly reduce office space.
Recent spikes in infections mean many firms have had to scrap plans to ramp up to at least 50% capacity. For now, most are trying to find a balance between keeping everyone safe and a desire to return to in-person collaboration.
"We really don't have a date in mind, to be honest," says Didhiti Bhoumik, Chief Administrative Officer at Borden Ladner Gervais LLP, which has offices in Calgary, Montréal, Ottawa, Toronto and Vancouver. "We have proven that we are very productive and can work from home, so we will continue to do so and work within the provincial public health guidelines. Except for essential office staff, everyone is working from home. We are very reluctant to put a date on a return based on how things are going."
BLG has 800 lawyers and 200 staff across its five offices. It hasn't exceeded 30% capacity in any of its locations since March. Bhoumik, who has written about the future of workspaces, says the firm is taking what it has learned during the pandemic and applying it to future plans.
"We believe in innovation in the workspace. We will never say that we're all going to work from home — that's not in our culture," Bhoumik says. "We will be back with a different approach, and we will give more flexibility to our people. We will invest more in collaborative spaces, and in the long term, we will probably have a smaller real estate footprint than we have today."
The firm is planning to invest in more tech-enabled rooms for virtual hearings.
"We do want that human connection again. We will definitely go back to the office but probably not every day," says Bhoumik. "We have seen that the productivity is very high."
For now, anyone who goes into the office has to fill out a health questionnaire and notify human resources. Safety protocols, such as arrows on the office floor, plexiglass around reception desks and distancing requirements are also all in place.
"We took it to the next level to make sure those coming in were very safe and secure," she says.
Seizing the moment to make a change
From large to small, firms are looking at opportunities to make changes. For Vancouver's Hammerco Lawyers LLP, the success of remote work means a move to a smaller location. About 60% of the firm's workforce is currently working from home. While a new office was being considered before the pandemic, the size has changed dramatically. The firm of 22 lawyers currently has a 14,000 square foot space in downtown Vancouver; the new location will be half that size.
The firm is diversifying into new practice areas and, during the last few months has been recruiting lawyers from outside B.C. who want to work remotely.
"We have leapfrogged off of this pandemic as an opportunity to make more drastic changes," says Morgyn Chandler, co-managing partner at Hammerco. "It's a lot of change at once, but we have seen that people can flourish in it. It will be an on-going transition for at least the first six to 12 months. Everyone is excited and invigorated by all the changes even though it's happening at a crazy time."
Less office space is also a consideration for Will Davidson LLP, a firm of about 60 lawyers and staff with offices in Oakville, Toronto, Bowmanville, Midland and Huntsville.
"It's on the radar whether we need all this real estate," says partner Paul Cahill. "I think all employers are going to ask: 'Do we need a Bay Street address?'"
In the meantime, the firm continues to encourage staff to work from home. "We did not make anyone feel like they had to come into the office. From our perspective, the health and safety of our employees is the most important thing," he says.
Finding a balance and staying flexible
Firms in the Atlantic bubble are perhaps in the most enviable position with fewer restrictions as those in the rest of the country.
"As a multi-jurisdictional law firm, we have found that almost anything we try to do as a one-size-fits-all approach doesn't work, but at a principled level we are trying to be flexible for people and recognize that we all need to get through this together," says George Cooper, Chief Executive Officer of Cox & Palmer. The firm has 10 offices in the four Atlantic provinces. "Some things that make sense in Halifax may not make sense in Charlottetown or St. John's or Saint John.
"No one was forced to come in if they felt uncomfortable — the larger challenge is people have wanted to come in," he says. "I think we will be much more flexible when it comes to working from home arrangements than we ever were before. There is still value in a synergistic workplace, so while we haven't landed on what 2022 and beyond will be like, during this period, we will be flexible to people's needs, particularly if they have family members to care for; childcare or genuine health limitations."
In Calgary and Edmonton, McLennan Ross LLP had reached about 30% to 40% capacity in its offices before the spike in infections began in late November. As of early December, most of the Calgary office has been directed to work from home.
The firm's four-person executive committee meets three times a week and managing partner Steve Livingstone says one of the primary issues they discuss is how many people are in each office. "If the numbers are creeping up, we step in whether it's staff or lawyers," he says.
"It would be nice to get everyone back in the office, and sure it's inconvenient, but we're in a pretty fortunate position. About 50% of the people out there have had their businesses impacted; ours hasn't been," says Livingstone.
After ramping up to 50% attendance, lawyers and staff at Lawson Lundell LLP in Vancouver, Kelowna, Calgary, and Yellowknife are adjusting to new restrictions.
"In Calgary, you can only come in the office if your physical presence is needed for 'operational effectiveness,' which we will be observing pretty strictly. It will probably be like that until the second wave washes itself out a bit, perhaps in February. In Vancouver, we are at 40% from the 50% we had been at in the summer," says Lawson Lundell managing partner Clifford Proudfoot.
"I see 2021 as being a very disruptive year in terms of how we operate. I really believe we don't know how big this second wave is going to be, but it will mostly be over by the end of February, and hopefully, the vaccines will ensure we don't get a third wave like the Spanish flu, which had four waves," says Proudfoot.
While the firm has performed well with work from home arrangements, Proudfoot looks forward to seeing people back in the office again.
"My personal view is this is an apprenticeship profession, and that apprenticeship and collaboration are very hard to do on Zoom and remotely," he says. "We were determined to have people in the office this year so we would be able to train our new summer students and articling students and associates. We wanted to make sure we could cover that off with 50% of people in the office, and I think we achieved that."
Most lawyers agree that the pandemic has opened the door to flexible work arrangements.
"One of the silver linings will be that the practice of law will be dragged into the 21st century," says Dale Orlando of McLeish Orlando Personal Injury Lawyers LLP. "I expect more flexibility with the judiciary in terms of things like scheduling court motions and pre-trial and case management hearings."
Orlando also supports more working from home for staff. "We didn't allow people to work from home as a rule before. I envision a mix of attendance in person and work from home on an alternating schedule."