Law
Hot topics
The Supreme Court's fall schedule
Much of the court's docket in the coming months will deal with issues of interest to criminal lawyers.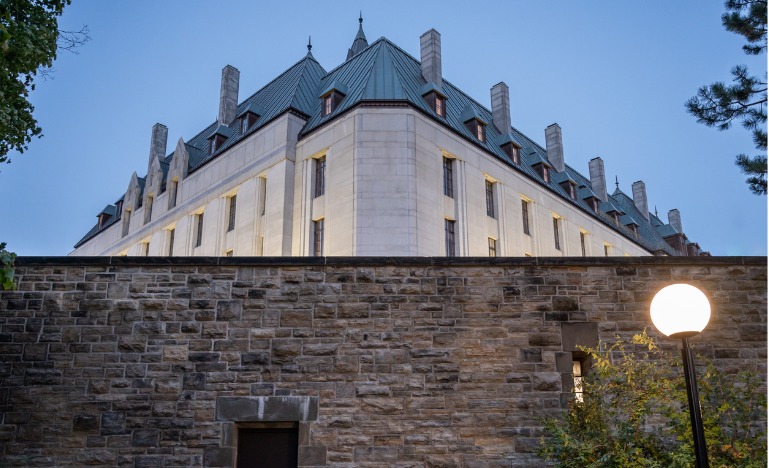 The Supreme Court of Canada will be kicking off its fall sitting with a field trip to Quebec City, where they will hear two cases and engage in public outreach, much as they did in Winnipeg in 2019. Justice Michelle O'Bonsawin will also have been sworn in to replace Justice Michael Moldaver before the session begins.
Of the two cases to be heard in Quebec, the first turns on whether the police must have an approved testing device with them before they can conduct a breath sample, and whether they could lay a charge of failing to provide a sample when the device they requested was not delivered. In this matter, the Quebec Court of Appeal acquitted the alleged offender.
Sarah Rankin, an associate practising criminal law with McKay Ferg LLP in Calgary and Regina, says there has been a yearslong debate on how long a leash the police have when the device is either on the way or isn't available.
"The standards across the country vary, in part based on rural-versus-urban practicalities, but also based on interpretive rationales," Rankin says. "The whole of the scheme is aimed at immediately including the suspension of the right to counsel."
The second case to be heard in Quebec tests whether the province's ban on growing cannabis plants for personal use is constitutional. The province's Superior Court ruled it wasn't, but that was overturned by Court of Appeal.
Thomas Slade, a partner at Supreme Advocacy LLP in Ottawa, runs a website called Fantasy Courts, where people can predict Supreme Court of Canada decisions before they are rendered.
"I can see that case getting a decent amount of attention purely by virtue of the subject matter," Slade says. "It's basically a division-of-powers case, but I don't think it'll be ground-breaking necessarily."
According to the tentative schedule posted on the court's website, five hearings are scheduled for October, seven in November, and five in December. One criminal hearing in October, which is by leave rather than by right, is scheduled for a two-day hearing, which involves a request for a stay of proceedings based on alleged abuse of process by the police investigation and conditions in pre-trial custody.
Rankin points out that this hearing is part of the Surrey Six cases, and there have been issues around grievous witness misconduct in several related cases. The judge refused to hear the stay application in this case.
"In a case where the remedy sought was a stay of proceedings in an extremely serious multi-homicide case, and [the Court of Appeal] said they should have heard it," Rankin says. "It deserves balancing in the interest of the public because there are real worries on both sides given the severity of the misconduct."
Other October cases involve a challenge to the Safe Third Country Agreement, a libel and slander case involving the BC Teacher's Federation and a school board trustee who made negative comments around school policies involving sexual orientation and gender identity. There's a civil liability case involving provincially mandated safety measures that were not in place when a pedestrian was killed, and an as-of-right appeal in a voyeurism trial.
According to Slade, the challenge to the Safe Third Country Agreement is one of the most significant appeals of the session, as it deals with all refugee claimants who enter Canada from the United States.
"The Federal Court had struck down corresponding legislation, and the Federal Court of Appeal overruled them," Slade says. "This one is shaping up to be a really interesting case for the Supreme Court to weigh in on."
Slade also believes that the libel and slander case will attract attention because of its subject matter. The same goes for the voyeurism trial, as it involves hockey players at a time when the culture of Hockey Canada is under the microscope.
November has four criminal hearings—two by leave, two as of right. The leave cases involve a case questioning the legality of policymaking a sobriety check in a person's driveway, and a case regarding whether a mandatory minimum driving prohibition could use time served under an existing prohibition in sentencing. The two as-of-right cases both involve murder trials.
Slade will be watching the sobriety check case closely.
"A lot of the law is pretty settled with respect to the police being able to do these road-side stops, but in this case adds a novel wrinkle in terms of what happens if a person ends up on private property before the test is done, and before the police officer is able to do the test," Slade says.
Rankin notes the time-served case is of particular concern as someone who practises inter-jurisdictionally in the West, as some provinces have never-ending pre-conviction prohibitions that rarely count.
"My firm practises in Saskatchewan, and if you're in rural Saskatchewan, there's almost nothing you can do without a car," Rankin says. "Alberta doesn't have the same indefinite system that Saskatchewan does, and it's just the arbitrariness of it. The feeling of randomness and the difference inter-jurisdictionally really has an impact on people's perception of the process."
In December, the court will hear three as-of-right criminal trials and a division of property case. It will close the year with a two-day hearing on a Quebec challenge against the federal government turning over Indigenous child and family services to individual First Nations.
"They're going to be looking at when First Nations decide to exercise that right of self-government. How do you reconcile that with existing provincial laws?" Slade says. "If a First Nation decides to enact its own child and family service laws, how are you going to deal with the laws that likely conflict with existing provincial ones?"
Slade notes that while few First Nations have created their own laws yet, many have been contemplating the issue, and there are plans in the works, which means that a lot of people will be watching this case as it will determine their ability to exercise their self-government rights.
"Right now, this case is just child and family services, but it could certainly have an impact on future areas that First Nations may want to expand their law-making powers into," Slade notes.
Rankin says that unlike other semesters at the court where the legal issues can seem esoteric and abstract, this seems to be one where cases involve matters that criminal lawyers have been grappling with.
"It'll be good to get some resolution and real debate about it," Rankin says.