Law
Judiciary
Violations of judicial independence?
Or are efforts to make judges' expense claims public and to mandate sexual assault case training really about ensuring their impartiality?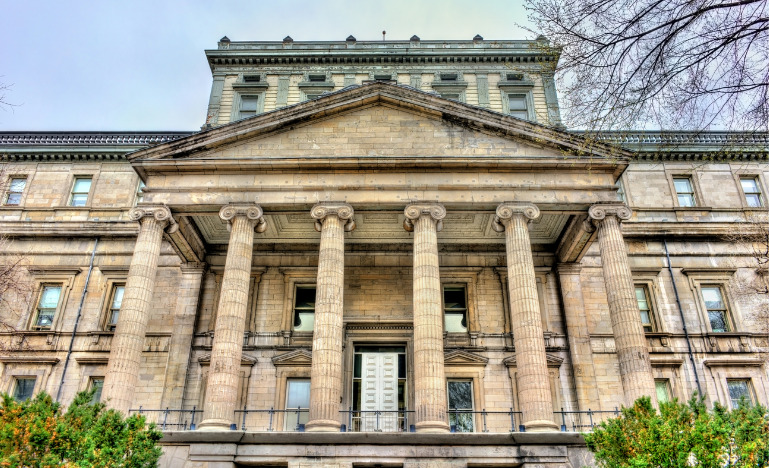 Over the past parliamentary session, judges' groups across the country flagged two bills as having a detrimental effect on judicial independence in Canada. Should we worry about the slow erosion of that independence?
There are three aspects to judicial independence – security of tenure, financial security, and administrative independence. The Canadian Judicial Council says that while judicial independence as a concept is simple in principle, the details are often more complex and misunderstood.
"There needs to be ongoing dialogue between the judiciary and the executive power to make the system of justice function properly," says Johanna Laporte, director of communications for the CJC.
Of the two bills, Bill C-58 would have made judges' individual expense claims public by way of access-to-information requests. Bill C-337 would mandate judicial applicants to complete mandatory survivor-led sexual assault law training.
"The concerns we had with C-58, as it was approved by the House of Commons, was that it duplicates mechanisms that we already have in place for reviewing judicial expenses through the Commissioner for Federal Judicial Affairs," says Ontario Superior Court Justice Thomas Heeney, president of the Canadian Superior Courts Judges Association.
The larger worry was that a regime that ties the expenses to individual judges creates opportunities for those judges to be attacked or embarrassed in the public sphere, where they wouldn't have an ability to respond. The bill also had a provision where the Commissioner may refuse to publish the information if it violates judicial independence.
"That really violates judicial independence because it's a constitutional question," says Heeney. "You can't delegate to a member of the executive the decision on a constitutional question."
The Senate amended the bill so that the expenses would only be published as aggregated statistics as opposed to being associated with individual judges. That satisfied most of their concerns, Heeney says, but the matter of the Commissioner's ability to refuse to publish remains in the legislation. Admittedly, it is no longer a practical concern, he says.
With regards to C-337, Heeney says it was an infringement on judicial independence because administrative independence includes training, which is done by judges for judges.
"This imposes a regime, imposed by others, in terms of what judges will or will not study in terms of their education, and that's a blatant violation of judicial independence," says Heeney. "The other concern is that the publication aspect of the Act amounts to a shaming exercise."
The bill required publication of the number of sexual assault cases heard by judges who had not attended the mandatory training sessions. Underlying the criticism is the suggestion that the cases were being heard by untrained judges, except that the requirement ignored existing judicial education and any previous experience those judges may have acquired in their law practices. That would also affect administrative independence around how cases are assigned.
The CJC's main concern with the bill was that principle that control over education programs for judges must remain within the judiciary itself.
"While the judiciary was concerned with many aspects of the proposed legislation, what it did was launch an important national discussion on how judges in Canada are trained and the need for the Council to better explain to Canadians the excellent programming available to all judges," says Laporte.
Heeney says that he's not concerned that both of the bills were introduced in fairly rapid succession. It may have been more coincidence than worrying trend.
"Bill C-58, resulted in a bill that basically addressed the issue of judicial independence," says Heeney. "The legislative system worked"
"With respect to C-337, that never finished going through the Senate, where those concerns were being raised. If they do [bring it back], we'll be back in the same position that we have been."
Richard Devlin, a professor at the Schulich School of Law at Dalhousie University who has published papers on judicial independence, is less convinced that there is a problem with either bill that impresses upon judicial independence.
"The whole idea of judicial independence is a means to an end," says Devlin. "The end that we're trying to seek is impartial decision-making by judges. The standard by which I assess all of these developments is to what extent do they threaten impartial judicial decision-making?"
To that end, Devlin says that it was never clear to him how revealing judges' expenses would affect their decision-making, whereas with Bill C-337, the increased education for judges could be seen as improving the impartial decision-making of judges.
"I'm not sure it was really a threat to judicial independence so much as it was an attempt to enhance judicial impartiality in the context of sexual assault cases," says Devlin. "I understand the concern that one would not want particular groups to have a particular preference in communicating with judges, but having said that, there are many forms of expertise, and people with lived experiences do have a lot to offer."