People
Profile
Dismantling the colonial history of law
Aimée Craft is one of two CBA President's Award recipients in 2021.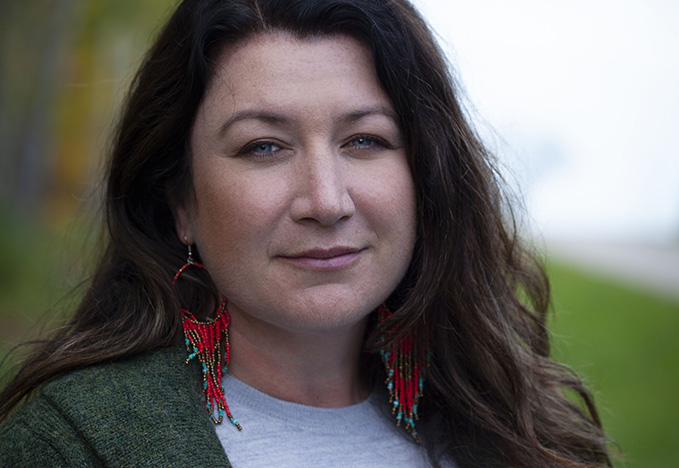 Every kid gets caught in the act of mischief by their parents. In young Aimée Craft's case, her father discovered her once writing a legal case about a murder. "The way he tells the story, I said to him, 'Leave me, this is a very serious thing, I need to get it done,'" she explains with a laugh.
Craft, an Anishinaabe-Métis lawyer from Treaty 1 territory in Manitoba, is one of this year's President's Award recipients. A law professor at the University of Ottawa, she always knew she wanted to be a lawyer, even though following certain rules can be a struggle for her. "I can't bake, and I can't colour within the lines. Some people think your passion for the law is about rules and structures. I actually don't see law that way," she says, pointing to how she incorporates art and artistic practices into her work, "because law is about principles that help you make good decisions and help you live well."
Craft had initially planned on a career in international environmental law before specializing in Indigenous law and Canadian Aboriginal law. "Being a legal academic allows me to think outside the box and not be bound by arguments that are going to advance the particular goals of a client," she explains, emphasizing the good that law can do for people. "To me, seeing people being well and living well is important, and I think that's heightened in this pandemic time."
Indigenous law is not simply adding a splash of "Indigenous flavour" into the Canadian legal system. "It's actually more profound in that it questions the foundations of how we make decisions. Indigenous peoples have been excluded from this sphere of decision-making for a very long time." She stresses the importance of engaging with Indigenous legal order by ensuring space for Indigenous principles of decision-making.
For instance, Canadian laws governing environmental evaluation and assessments are roughly 60 or 70 years old, she says. "Anishinaabe protection of water? Thousands of years old."
The Truth and Reconciliation Commission, in its calls to action 27 and 28, outlined needed changes in Canadian legal education and culture. Craft notes that "law is part of the damaging past in that relationship" between Indigenous peoples and Canadian society. "Law has been complicit. Shifting that and looking at education and training for lawyers and within law schools, on the basis of skills and substantive knowledge, I think is for me one of the cornerstones of the change that's been made. What I don't want to see is that ever stopping. I don't want it to lose momentum."
Changing society and achieving reconciliation will take a long time, Craft recognizes. That's one of the reasons she is honoured to be receiving the President's Award, which she sees as a call to continue the work.
It sends a message to CBA members and the legal profession about the importance of "redefining the moment that we're in" vis-à-vis politics and law in Canada, she says. That means taking the imperative of reconciliation seriously, and recognizing the rights contained in the United Nations Declaration on the Rights of Indigenous Peoples, responding to the calls to action of the Truth and Reconciliation Commission and recognizing there is a need for real societal change.
What's left, she asks? The Supreme Court. There should be three new positions, she says: one from the West, one for the East, one from the North, representative of Indigenous peoples in Canada. That's needed, she says, "for the highest court of this country to have a chance at dismantling colonial history of law in relation to Indigenous peoples in Canada."
The CBA President's Award recognizes the significant contribution of a Canadian jurist to the legal profession, to the Canadian Bar Association or to the public life of Canada. View the list of past recipients here.
___________
Aimée Craft is an award-winning teacher and researcher, recognized internationally as a leader in the area of Indigenous laws, treaties and water. She prioritizes Indigenous-led and interdisciplinary research, including through visual arts and film, co-leads a series of major research grants on Decolonizing Water Governance and works with many Indigenous nations and communities on Indigenous relationships with and responsibilities to nibi (water). She plays an active role in international collaborations relating to transformative memory in colonial contexts and relating to the reclamation of Indigenous birthing practices as expressions of territorial sovereignty.
She is an Associate Professor at the Faculty of Common law, University of Ottawa and an Indigenous (Anishinaabe-Métis) lawyer from Treaty 1 territory in Manitoba. She is the former Director of Research at the National Inquiry into Missing and Murdered Indigenous Women and Girls and the founding Director of Research at the National Centre for Truth and Reconciliation. She practiced at the Public Interest Law Centre for over a decade and in 2016 she was voted one of the top 25 most influential lawyers in Canada.
Her award-winning book, Breathing Life Into the Stone Fort Treaty, focuses on understanding and interpreting treaties from an Anishinaabe inaakonigewin (legal) perspective. She is past chair of the Aboriginal Law Section of the Canadian Bar Association and a current member of the Speakers' Bureau of the Treaty Relations Commission of Manitoba.