People
Q&A
Conversation with the Chief Justice
Ahead of the CBA AGM, Chief Justice of Canada Richard Wagner discussed the Supreme Court's work during the pandemic, his efforts to maintain public trust in the institution and why he's a believer in dissenting opinions.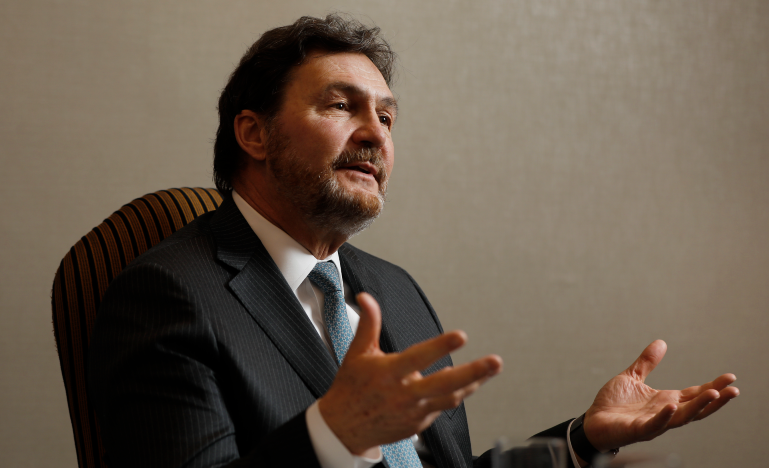 CBA National: You've spoken before about the importance of collegiality at the Supreme Court. In light of everything that's happened in the past two years, how would you describe the current state of collegiality among Supreme Court justices?
Chief Justice Richard Wagner: Everyone adjusted very quickly. We have an incredible staff at the Supreme Court who supported us. I can honestly say that the pandemic has had no impact on collegiality, which truly is a pillar of the Supreme Court—it's a core value for us. It's important to be able to speak to each other with respect.
N: Since your appointment as Chief Justice, you've taken an interest in access to justice. You have insisted on the importance of using plain language in court decisions and summaries. You have taken steps to improve the Court's public communications and participated in public events. It has held hearings in Winnipeg and will soon sit in Québec City. What's motivating you to do all this? Are you worried that public confidence in the justice system might be waning?
RW: With the social context and what's going on around the world, I thought it was important to make sure that people continue to have confidence in the judicial system. People need to know what we do, and why and how we do it. It's difficult to appreciate something that you don't understand. So yes, you're right, all of these initiatives are part of an effort to make sure we can count on the public's trust, because that trust is the bedrock of a strong democracy. Around the world, and even close to home, democracy is under siege, including in societies where we would never have thought it could happen. That stems from a lack of respect for institutions, which is why it's essential to keep up our efforts to inform the public—to ensure they trust in our institutions, including the justice system.
N: In your view, what is the state of respect for institutions here in Canada?
RW: I think we have a robust democracy in Canada, but the mistake would be to become complacent.
N: Can we expect the Court to hold hearings in other cities? And how is the decision made to visit a particular part of the country?
RW: Yes. Of course, we haven't become a travelling court, but I think we could do it every three years or so, depending on the circumstances. For the first time in Winnipeg, the choice was easy. We decided to visit the country's geographic centre, and that's Winnipeg. Plus, there's a wonderful community of Francophones, Indigenous people and Métis in Manitoba. I think it's appropriate to visit Québec City because we don't necessarily want to go to the biggest cities. We want to go to places that can accommodate a hearing of Supreme Court justices, where there's a law faculty and a broad range of communities. We might visit the Maritimes or the western provinces next time.
N: Are there limits to what you can do as a judge when you reach out to communicate with and educate the public? Do we have to rethink the role of judges in this respect in 2022?
RW: The role of judges is changing as society evolves. More and more judges have careers after retiring from the bench, so we have to see to what extent we need to exercise restraint. We don't get involved in public debate—that's the job of elected officials. But at the same time, we have the responsibility to educate the public about who we are and what we do. That's why, after many, many years of work, we published the new ethical principles for judges. It was up to us to adjust and adapt to how things are in Canada in 2021, 2022. Situating the role of judges in today's society, what we can and can't do, is part of that work.
I'm sure you've also noticed that since May 2020, for the first time ever, the judiciary is working alongside the executive to find ways to improve the justice system. We worked with the Minister of Justice to establish a special committee on restoring the full operation of Canada's courts in the wake of COVID‑19. The goal was to provide guidelines, support, recommendations and suggestions to officials in every province to help them get their courts back up and running. So you see, this work was born in March 2020 of a pressing concern to restore the operation of the country's courts, as courts were essential to dealing with the emergency before us, especially in criminal and family matters. We then pivoted to an approach aimed at improving access to justice across the country more generally. And it's working very well. We each stay within our exclusive jurisdiction, without overstepping our boundaries, but we work well together. We had to take a big leap to work together, without, of course, losing sight of the importance of judicial independence, which is also a cornerstone of our democracy.
N: In a recent Q&A, Nadia Effendi pointed out that last year, the Supreme Court granted more leaves to appeal in criminal matters than in civil matters, which is unusual. How do you explain this?
RW: Good question. Of course, it depends in large part on the lower courts. Secondly, in the past few years, we've noticed far more appeals as of right in criminal matters. But again, that can vary. We grant motions for leave to appeal when we are of the opinion that there is a controversial question in the lower courts, whether in civil, criminal or constitutional matters, and where there is an issue of national public interest that the Court must decide. The criteria are still the same; nothing has changed.
N: It seems like in recent years, many decisions have given rise to concurring or dissenting opinions. Is there a risk that this will create confusion in the general population or even within the legal community?
RW: The issue of dissenting and concurring opinions at the Supreme Court of Canada is as old as the Court itself. I think it's an advantage to have dissenting opinions as long as they're necessary and as long as they're justified. It shows our transparency, and it shows that the Court considered the parties' arguments, unlike some civil jurisdictions in Europe or similar courts, which have a rule to publish only the majority decision. That said, there are issues where it's best to have a strong majority, to drive home the importance of the decision. Take Vavilov, for example, in administrative law [on standards of review]. There had been a great deal of criticism since Dunsmuir. Some people were saying that the standards were all over the place. When I became Chief Justice, I told my colleagues that I thought it was time to review Dunsmuir and how administrative law should be applied in Canada, because there was too much confusion. My colleagues agreed, so I said, "Let's see if we can find the right cases to settle this question once and for all." We were ready to set things straight, which hadn't been possible in the past. I appointed an amicus curiae, and we heard from 26 experts in administrative law. We handed down a solid majority decision, 7 to 2. I worked on the case in a very collegial manner with my fellow justices, submitting many drafts of decisions that seven of my colleagues eventually agreed on. So that's an example where we needed a clear decision in an incredibly important area of law—administrative law, which is a gateway to the legal system for so many Canadians. Clarity really was key.
N: Does it happen often that the Court identifies an issue like that and needs to bring some order?
RW: To my knowledge, that was the first time. It was a problem that affected thousands and thousands of Canadians, and everyone recognized how important and urgent it was to act. But obviously, those were exceptional circumstances.
N: The Supreme Court issued a notice to the profession about interventions at the end of 2021. In fact, your colleague Justice Suzanne Côté took part in a session on this topic. The rules themselves haven't changed, but the number of interveners has increased over the years, particularly in public law matters. What message was the Court trying to get across? Does it plan to take a more restrictive approach to interventions in the future?
RW: That's an excellent question, because we want to protect what works well. Interventions are very important in Canada, but we need to make sure the guidelines are clear. The goal was to make the Court's expectations clear because the parties involved argue the case. So it was simply about clarifying a few things to avoid redundancy and make sure that interveners provide useful information that is different from that provided by the main parties
N: Justice Michael Moldaver will retire later this year. What do you think his most valuable contribution has been as a judge and colleague?
RW: I have known Justice Moldaver since 2012, when I was named puisne justice. He has been a judge on the Court of Appeal and the Ontario Superior Court, and he was one of the best criminal lawyers in Ontario. So he brought a great deal of experience and expertise—both theoretical and practical—to the Court. He made his mark here at the Court, as the author of criminal law decisions that will be cited as references for many years to come, and in other areas of law. Justice Moldaver has always been a strong presence on the bench in matters of commercial law, for instance. He is one of the judges who asks the most questions. He's curious, he leads discussions and arguments, and his insights are always relevant. I've always appreciated that. He's also an exceptionally collegial colleague, very respectful. In my opinion, he is one of the best justices the Supreme Court of Canada has ever had.
N: One last question. Did you have a favourite pandemic pastime?
RW: I have four grandchildren and two children. I missed them terribly, so I made sure to visit with them whenever it was possible. I also played golf and tennis and took long walks whenever I had the chance. And I love to cook, so my wife and I spent lots of time in the kitchen together when there wasn't much else we could do out of the house.
N: Do you follow recipes to the letter, or do you like to improvise?
RW: I love experimenting. The results aren't always great, but you don't know if you don't try!
This interview has been edited and condensed for publication.