The practice
Workplace
Corner office shakeup
New trends in law office design focus on workplace experience, flexibility and mobility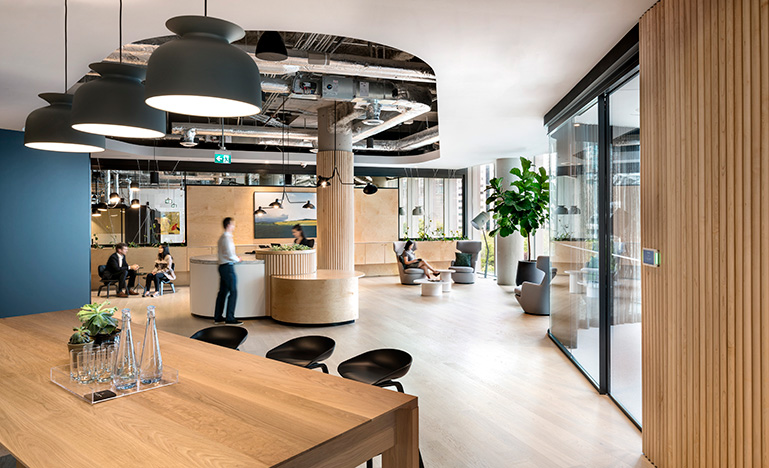 As unprecedented changes continue to shape the legal market, several law firms have been reimagining their workspaces, increasingly looking to create less hierarchical and more collaborative environments.
Downward pressure on fees, combined with rising rents and salaries, is forcing firms to improve operational efficiency, according to a recent audit of North American law firms by international design firm Gensler. The audit found that law firms are starting to leverage three key design trends to gain a competitive advantage: high-performance offices, tech-enabled choices, and a sense of community. Firms are creating more compact offices and experimenting with furniture, ergonomics, tech and transparency.
There is a trend to having uniform office sizes for both junior and senior lawyers, which impacts the overall amount of real estate needed, says Franca Rezza, a senior associate and studio director at Gensler in Toronto. Canadian firms have been more progressive than their American counterparts in moving to uniform office sizes, she adds. "They're able to slash anywhere from 15 to 30 percent of their real estate costs by doing that."
To a large extent, Rezza says millennial lawyers are at the forefront of the push for change. They are looking for more work/life balance and quality of life, including the choice to work from home one or two days a week. And many newly called lawyers are deciding not to practice in law firms at all, choosing company legal departments or other organizations, including major accounting firms.
Law firms are not competing for talent based just on compensation. "They're competing for talent based on the experience they're giving them, the flexibility they're giving new lawyers, the quality-of-life opportunities," says Rezza. "They have to start thinking outside their traditional box when they talk about how they are going to attract and retain top talent and be more considerate of things like promoting health and wellness, healthy eating options and lots of sunlight."
Millennials like to socialize and have a sense of community as part of their work environment, so in traditional law firms, Rezza says "there weren't spaces for people to come together and be more social. It was really focused on, 'go to your office and work, bill those hours.'" She adds that law firms are increasingly "looking for a workplace that differentiates them by offering a memorable experience, not only telling the story of the firm's brand and culture but also energizing and inspiring their people. Spaces that energize and inspire staff are the kinds of spaces that will attract talent."
Millennials also want to be able to work outside their personal offices, so creating a variety of spaces within the firm gives them flexibility and choice. "It's not just necessarily working from home, it's being able to work from anywhere, and that includes within their own office. They can go into those spaces and have the privacy they need, have the technology, conduct meetings, and not have to do it in a traditional meeting room setting or in their offices," says Rezza.
Another big trend Rezza sees is a slow progression to the "open plan free address" concept, in which people are not assigned a workspace at all. This idea comes from tech company environments and is now being incorporated into other workplaces. It's not something law firms would previously entertain, but some American law firms are testing it as a concept, she says. "In Europe and the Middle East, we're actually seeing them do full-on free address workplaces."
Several Canadian law firms have already redesigned their offices, including McCarthy Tétrault's Vancouver and Quebec City offices. BLG in Toronto relocated more than 700 people to a new office that has uniform office sizes, cafés on each floor and spaces for clients to host events.
Mike Walker, former managing partner of Miller Thomson's Vancouver office, says his firm is focused on modernizing its approach to the legal profession, and office design is part of that. Instead of thinking about views and how many lawyers get corner offices, the firm decided to focus instead on how people work together, he says.
When the firm chose the 48,000-square-foot fourth floor of the former Eaton's department store adjacent to Robson Square, one appealing feature was that everyone would share one floor. But with such a huge floor plate, there would be no perimeter offices.
Miller Thomson hired Australian architectural firm BVN to design the new office. For the first several weeks, their people spoke to firm members about how they worked with others. "(That) led to some of our lawyers wondering why am I in a separate office?" says Walker.
Akin to town planning, the floor's final layout divides the space into what Walker describes as neighbourhoods. "They ran streets through it, and the offices and meeting rooms and so on are like buildings within the space."
Instead of providing water and coffee throughout the office, a single kitchen space encourages people to congregate and meet with others. The firm has 10-feet-square offices for 35 lawyers and the others work in the open. Walker says the firm's millennials like the new space and the older firm members "are generally very happy with it. People say I had no idea how great it would be."
Walker points out that younger lawyers are used to working in a more collaborative environment at law school.
Millennials want interaction, collaboration and "access to expertise and knowledge as quickly as they can. This is why they like this kind of space—proximity to senior lawyers," he says. BVN "had a lot to say about focus versus collaboration—you cannot just drive interaction all the time," says Walker."You have to have spaces where people can go and escape from it all."
There are a dozen meeting rooms and several other small quiet rooms for more focused work. The firm has found that students coming in for tours or articling interviews are impressed.
Walker describes Miller Thomson's office as non-traditional and feels like an informal tech office, with light wood, an unfinished ceiling and a distinct lack of marble. As he looks around, he is struck by its peacefulness. "It is quite serene in its overall feeling," he says. All lawyers have complete technology mobility because those working in the open need to be able to go to a private room to do focused work, make a conference call, or meet with colleagues. "We are no longer tethered to our desks," Walker concludes.