The practice
Workplace
The law firm destination workspace
Competition for remote workers is forcing firms to get creative about redesigning their offices.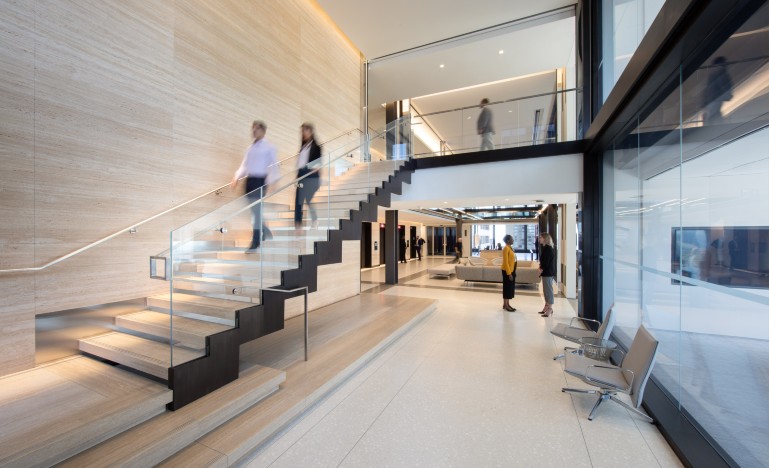 As increasing numbers of people head back into the office, law firm leaders are taking the opportunity to rethink their firms' layout and design, focusing on wellness, flexibility and connectivity.
It's all part of an effort to create welcoming areas for lawyers, support staff and clients — "destination spaces" that foster collaboration and mentoring. These include bistro-style cafes, wellness rooms and conference centres using sophisticated technology.
Cassels Brock & Blackwell is in the midst of making several changes to its Toronto office. In planning its upcoming move to Adelaide and Yonge next year, the firm has embraced changes that are "a little novel for law firms," says Managing Partner Kristin Taylor. That includes standardizing lawyers' office size and moving them away from the building's perimeter to create a light-filled space for everyone. There will also be a corridor off the elevators that will go directly into showers and change rooms for people who bike to work.
Cassels will also have a wellness centre with a green wall and a small gym with bicycles and treadmills, a religious observance space, a room for nursing mothers, and a family room for children of firm members who need to drop in to work. A meditation/yoga studio will offer mindfulness and yoga classes before, during and after the workday.
Goodbye dark wood panelling
There will be a lot of natural wood in the space, Taylor says, none of which will be dark oak or walnut. The colour palette will be mostly neutrals, and shades of blue and green. The idea is to bring light into the space, "so we're really trying to reflect the light in terms of colour palette that's been chosen, the materials that we're using."
People will be able to work on their laptops outside their offices on big chairs by the windows. There will be a client centre, several meeting rooms on each floor, and a lounge with banquettes to work at or collaborate. "We've tried to create a lot of different options for people that are inviting and tend to promote creativity," says Taylor.
As people return to the office post-lockdown, those who are committed to coming into the office at least a couple of days a week will have an assigned office, says Taylor, and others can use hoteling offices. "We don't want work to be an obligation but a destination, so the intention behind the design is to be this inclusive, welcoming environment, which reflects our values as a firm in the kind of space that we've created.
Although Covid largely forced people to work from home, being in the office plays a critical role in a firm's culture, says Matthew Kobylar, law firm design director at Gensler. "There's so much learning from law firms that happens to a young lawyer during their career that helps them to learn more." The lawyers he works with have "a real understanding that that social aspect of the office has been lost when everybody's working from home."
Firms are "investing in real estate to spark collaboration and camaraderie that lawyers, associates and support staff simply can't experience when they're siloed at home or remote offices. It's really important for the top firms to have physical offices that are exciting to go to."
Exceptional amenities help as a recruitment tool to attract top talent, says Kobylar. Law firms have always competed for new graduates, who are now being wooed by tech companies, accounting firms and consultancy firms. In addition to having flexible work arrangements, these firms often have beautiful workspaces, amping up the competition for talented lawyers.
Many law firms are investing in top-notch digital hearing rooms with good acoustics and lighting, says Kobylar. "It's the equivalent of a Brooks Brothers suit now to have a good digital hearing room that really gives you a competitive edge."
Connection and cultural bonds
Some firms are asking for everyone to come back into the office full-time, while others, including Norton Rose, offer more flexible arrangements. "It's hard to feel connected to the business and connected to each other as part of a culture if you are working primarily remotely," says Charles Hurdon, Managing Partner of Norton Rose Canada. "You lose that connection to the business, the connection with each other, the cultural bonds, and so we did want people to start coming back."
Norton Rose's Toronto office has a bright and collaborative space on each floor in the centre of things, with good coffee machines, snacks and fruit. "If you've got a very inviting, beautiful space with food service and you're going to be able to chat with your colleagues in a comfortable environment, you're more likely to draw people," says Hurdon.
With office leases coming up in the next few years, Hurdon says the firm plans to continue to have a mix of in-office and out-of-office work. "You can design your space differently for that and you can also have a real focus on making it the most attractive space possible so people want to come back."