The practice
Young lawyers
Getting face time
Young lawyers encouraged to embrace virtual networking while working from home.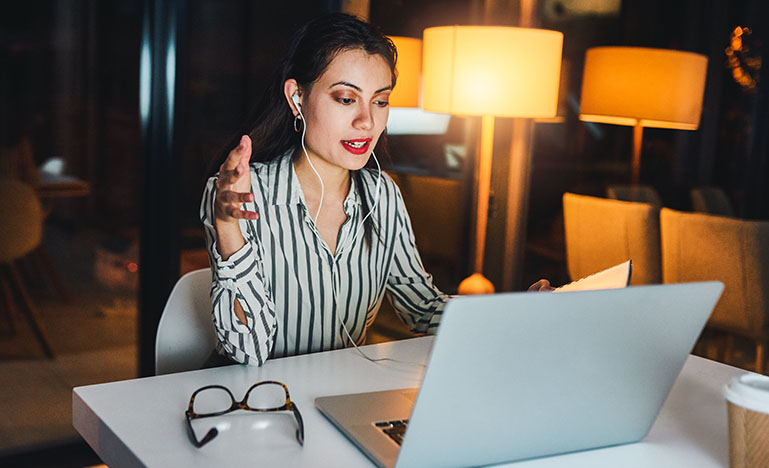 For articling students and first-year associates, it's tough at the best of times to get the attention of senior lawyers who can give meaningful feedback and interesting work. In a virtual work environment, it's all the more challenging. No surprise then that young lawyers are struggling to get the development they need right now.
"Some of the feelings of uncertainty that come with being a first-year associate are augmented right now because there is an added element of learning to navigate virtual office dynamics," says Kanika Sharma, an associate in the corporate commercial and financial services group at Borden Ladner Gervais LLP's Ottawa office.
Sharma completed her articling term with BLG in June and returned as an associate in early September. She lives in a one-bedroom apartment with her partner, who is in law school full-time. To give them both extra room to work, she has opted to go into the office two to three days a week.
Even at the office, all her interactions with colleagues happen virtually, either by video call, instant messaging or phone. Collaboration is now on screen only.
"Where we would normally sit in an office and go through a document line by line, the senior lawyers have been able to share their screens and take me through new agreements virtually," she says.
One area she says remains challenging is asking complex questions and for feedback while working online.
"BLG has an open-door policy, and when everyone is in the office, you can easily catch someone and ask for a few minutes of their time. Asking someone for their time virtually feels a lot more formal because you end up sending meeting requests or emails. Conversely, it can feel a bit too casual sending messages on our internal instant messaging platform asking for detailed feedback," she says. "There is definitely a balance to be found in online communications, especially when it comes to seeking contemporaneous feedback."
Taking the initiative and reaching out to solicit work and feedback is critical, says Avery Yandt, an articling student at Nelligan O'Brien Payne LLP in Ottawa. She has been working from home most of the time with one or two days in the office.
"I have found video chatting has been instrumental because it's a little more personal, and you're building a relationship rather than communicating with email," says Yandt. "I can video chat with someone if I have a question, or if I'm interested in an area they're working in, or want to get their take on something that is going on."
Kevin Coon, a partner at Baker McKenzie in Toronto, says senior lawyers need to stay "consciously connected" and give young lawyers meaningful work and valuable feedback.
"In the normal course of things, lawyers are not known for doing a good job on performance reviews and feedback, so it's all the more challenging in this kind of circumstance," he says. "We've tried to build a structure that provides safe spaces for honest and frank feedback, and we are taking additional measures to make sure people are getting the training and environment they need, including access to resources for good mental health."
Since March, Baker McKenzie has been working remotely, and Coon says he is going into the office a day or two a week. A planned return to the office was launched in early September, but for the most part, everyone is still working from home.
"We have a phased opening permitting up to 25% of the office to come in during any given week. We've given people the complete option depending on how comfortable they feel, but we haven't reached 25% in any week since we started this just after Labour Day," says Coon.
The firm has been doing a series of regional virtual townhall calls for associates and partners, including a session last week featuring a psychologist addressing issues that arise from working from home and how to deal with the stress, workflow issues, and receiving and giving feedback.
Be intentional about reaching out
Making sure young lawyers are getting the development they need is something litigation firm Lenczner Slaght Royce Smith Griffin LLP has prioritized.
"We remind the partners to connect as much as they can with the associates. We have to acknowledge that we need to be a lot more intentional about it — I don't think any firm could pretend it's easy to do this; it's not," says Monique Jilesen, partner at Lenczner Slaght. "It's difficult if you're a first-year associate to reach out to someone because you're not running into them on the way to the office kitchen."
At Lenczner Slaght, almost everyone is still working from home. Of the 180 people who work at the firm, about 25 people are in the office on an average day. The primary reason lawyers go into the office is to use the virtual hearing rooms for trials or longer motions.
"We don't have partners at the office and associates at home," says Jilesen. "Six months in, we are doing all the things we were doing before just in a different way. With case mentoring, we're making sure our colleagues get those advocacy experiences; however, we can get them. Lots of our associates have had the opportunity to do virtual hearings and virtual examinations and discoveries."
Lenczner Slaght has also formalized regular check-ins about workloads with associates.
"We've asked them to let us know if they are getting too much or could they take on additional work. If you see that two weeks in a row, someone says they have too much, we check in to see if they need any support. I think it's been positive for the associates and the firm as a whole that we're doing our best to manage the workload," says Jilesen.
The firm's director of legal recruitment is also offering tips to partners on giving useful feedback in a virtual context. The director of business development has also been meeting with the associates on their BD and marketing plans.
Embrace shameless self-promotion
To get noticed, Michael Bury of Blue Pond Coaching says young lawyers should embracing social media channels and post original content that may be of value to clients and catch the eye of partners at the firm.
"If you're trying to attract a particular type of work in a firm, write an article about a recent development in the law and get it published," he says. "You have to be proactive about showing yourself to be a thought leader and make sure it circulates in the right places. Firms have internal newsletters and blogs and getting onto those communication channels regularly will get you noticed."