Law
Business & corporate
The end of globalization as we know it?
What the pandemic could mean for the future of our global economy.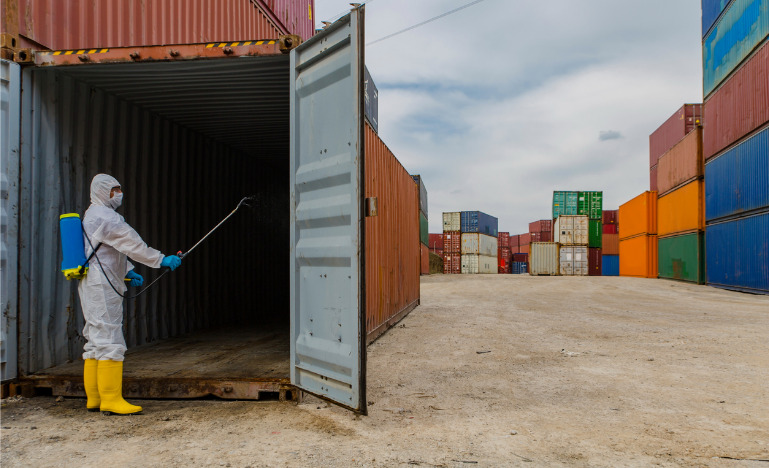 The global COVID-19 pandemic is wreaking havoc on lives and the economy, but it is also prompting questions as to its lasting repercussions on what our globalized world will look like.
According to Nicholas Lamp, a law professor at Queen's University, the pandemic has offered fuel to pre-existing narratives over globalization. Protectionists will use it as justification to shut borders. Progressives will field arguments about inequality gaps, the gig economy workers and so on. We see these arguments play out already as governments rush to shut borders and inject unprecedented amounts of money into their stalling economies.
"There's a new progressive argument that essentially says that we always could have taken care of the homeless or people without healthcare," says Lamp. "It was never a question of the money not being there, and was always a question about political will."
On the debate over export restrictions around medical devices, Lamp points to those arguing how counter-productive it is to have trade restrictions, including import tariffs, at times like these.
If anything, the current situation shows that more flexibility is possible within the system. Governments could allow doctors to work across state lines, for instance. In Ireland, there is an effort to speed up the qualification review boards so that immigrant doctors can practice medicine instead of driving cabs.
"These regulatory barriers that were holding people back before are coming down, which then begs the question about what was the justification for these barriers in the first place," says Lamp. "That's one of the ways in which this pro-globalization argument is going to come out of this crisis strengthened in some respects. It will be hard to reimpose those barriers afterward."
Marina Sedai, senior lawyer and principal at Sedai Law Office in Surrey, who is also the past chair of the CBA's Immigration Law Section, agrees that the current crisis is providing a lesson in flexibility for governments.
"I'm hoping that lesson sticks," says Sedai. "When we're in conversation with the government about what the labour market needs, and the labour market moves fairly quickly, it often cannot respond to the labour market in time."
There are barriers in the economy to letting foreign workers in, and that there are particular National Occupation Classifications that are in high demand, she says. But even after they are identified as being in high demand, there is no immediate response in terms of removing barriers, such as Labour Market Assessment applications that can take months to obtain.
Even so, Sedai credits the federal Global Skills Strategy, which helps fast-track temporary work permits in as little as two weeks for certain categories of specialized talent, as an effective government is program. An yet the pandemic has made it clear how essential lower-skilled workers are, she says.
Sedai would also like some newfound flexibility to find its way to Employment and Social Development Canada, particularly when it comes to temporary foreign workers who have been deemed essential with the agriculture and agri-food sector. She adds that the federal government has just launched a pilot project to bring some of those workers to Canada on a permanent basis, but the numbers remain small for the time being.
"I think the federal government needs to be a little bit braver," says Sedai. "I want to give them credit for this, I get that they need to start out small, but very quickly they need to expand."
Supply chains have also revealed vulnerabilities in the past couple of months, as plants forced to shut down in one country can no longer supply parts to manufacturers in other countries.
"What you're really seeing is a sense that supply chains are very sensitive to disruption," says Clifford Sosnow, a partner at Fasken Martineau DuMoulin LLP in Toronto. "Overlaid upon that is an enormous sense of uncertainty, lack of predictability and lack of certainty. If you're running a business, maybe you stop thinking about buy abroad of if you have a choice."
That said, the reality is that globalization isn't going away, Sosnow says. There's a limit to what businesses can't create domestically. "You're not going to produce pineapples in Canada." He adds that regional trading blocs might adapt by trying to better align their standards and regulations to creating better security of supply.
Lamp says it's unlikely there will be too much re-thinking of supply chains because the pandemic was a temporary event that coincided with a huge demand shock.
"The auto producers aren't going to bring all of their supply chains to North America or Germany just because of the temporary disruption in this crisis," says Lamp. "They know that the disruption will be 12 to 18 months maximum, and people aren't going to have the money to buy cars in this crisis anyway."
If anything, Lamp says, global supply chains across all sectors have been cemented by the measures governments have been taking to ensure that trade keeps flowing while borders have been closed to other travellers. In the health and pharmaceutical sectors, however, there could be a more permanent reshuffling of supply chains to ensure better resilience.
In terms of our ability to rapidly reshaping our way of life post-pandemic, the lurking threat we may no longer be able to ignore climate change.
It's a variation of the progressive argument that we need to muster political will to mobilize the financial resources necessary to address the climate crisis, says Lamp. The flipside to that, given the immediacy of the threat, people are more willing to do things than they would for the sake of climate. Also, the aftermath could take up all our attention.
"The economic devastation that this pandemic is going to wreak is going to make governments less willing to invest in the energy transition and individuals less willing to buy electric cars and so on," says Lamp.
On the other hand, governments might perceive an opportunity to rebuild a greener economy post-pandemic. If the political will is there, they will have better leverage over industry.
According to Sosnow, that kind of shift will require more intellectual capital than may be available at this time. Many of the businesses that survive will be focused on doing all they can to recoup their losses.
"There would need to be an intensively coordinated response with intensively coordinated government action, including incentives, funding and policy direction, that at this stage is just not there," says Sosnow. "In order to manage that, there would need to be a multi-step, multi-year, heavily-funded whole-of-economy approach to rethinking the economy."