Law
Business & corporate
Trading in for a new deal
With the successor agreement to NAFTA closing in on final ratification, trade lawyers consider some of the changes ahead.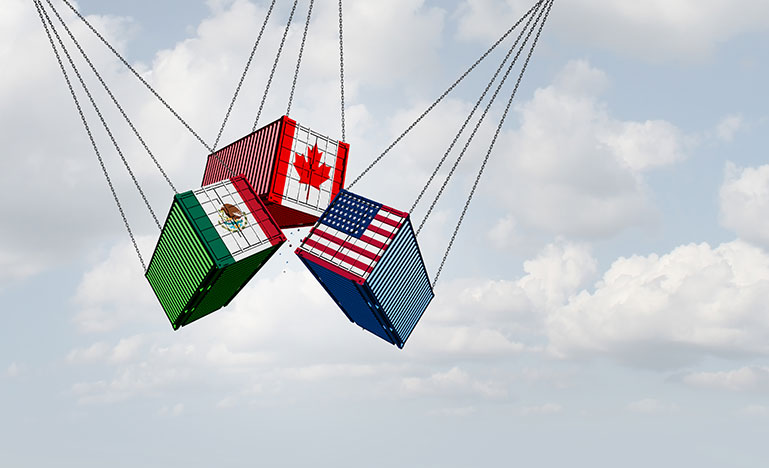 Some business sectors will need to study up. Still, most should not expect much to change under the Canada-United States-Mexico Agreement (CUSMA), probably better known as the USMCA or NAFTA 2.0.
Canada is the last partner that has yet to ratify the agreement. Bill C-4, the CUSMA Implementation bill, passed second reading in the House of Commons in February and has been referred to the Standing Committee on International Trade.
For Canadian businesses, little is expected to change. "Some people joke and call it NAFTA 1.5, or even NAFTA 1.1," says Dalton Albrecht, a partner at EY Law and Chair of the CBA's International Trade and Investment Committee.
Raj Bhala, Brenneisen Distinguished Professor at the University of Kansas School of Law, identifies three areas of significant change: new rules of origin concerning the auto and auto parts sector; the labor dispute settlement mechanism; and intellectual property.
"Everything that the Trump administration does on international trade has to be seen ultimately from an American national security perspective," says Bhala, who was born in Toronto and is a senior advisor to Dentons. "The most important changes in USMCA follow from that trade-national security linkage," he says. "The vast majority of the NAFTA 2.0 text is the same as NAFTA 1.0, but these three top-tier changes are not just random, they're actually linked to U.S. national security thinking."
Rules of origin intended to drive auto production
The most substantive changes are in the automotive manufacturing sector, where the Trump administration set out in the trade talks to boost auto production in the U.S. A side letter to the agreement guarantees an exemption from tariffs of up to 2.6 million Canadian automobile exports annually to the U.S.
The rules of origin content for automobiles increases the regional value content from 62.5 per cent to 75 per cent. Three-quarters of a vehicle must be built with parts from Canada, the U.S. or Mexico to qualify for tariff-free treatment. And 70 per cent of the steel and aluminum used in the vehicle has to be produced in North America.
There is also a requirement that workers produce 40 per cent of the value of a car and 45 per cent of the value of a truck with an average hourly wage of at least $US16. The provision is clearly directed at Mexico, where auto workers earn average hourly wages between under $US 4 compared to over $20 in Canada and the U.S.
It's unclear how the parties will ensure compliance with this requirement. "That is the most difficult thing, and that will have the most impact on Canadian businesses, particularly for tier one and tier two (parts) suppliers. I've already talked to some people who don't know how the 40 to 45 per cent of that $16 an hour is going to be calculated," says Albrecht.
Bhala says Canadians with operations in Mexico need to understand the technical rules and increase their monitoring.
"If you're a Canadian businessperson in Mexico, you need to pay attention to your record-keeping and your compliance with these rules of origin, and also make sure that you are fully implementing the USMCA labor rights rules in Mexico, "says Bhala.
Labour dispute settlement gets tougher
Stringent compliance with rules of origin in the manufacturing sector is crucial for Canadian operators in Mexico because labour provisions in CUSMA are now subject to dispute settlement. "It is the most rigorous labor dispute mechanism that we have in any U.S. free trade agreement," says Bhala.
The language under the new trade deal could allow for the U.S. to block imports of merchandise from a Mexican factory before a panel has convened or ruled on a matter. Bhala calls this a "potential draconian remedy of stopping goods at the border."
"The potential disruption to supply chains from failure to comply with rules of origin, or with labour rights, is considerable," he says.
Extended copyright for creators
Copyright protection will be extended from the "life of the author plus 50 years" to the "life of the author plus 70 years". This change brings copyright in line with the U.S. standard, known as "the Disney rule," through which the entertainment conglomerate retains its copyright on Mickey Mouse.
According to Bhala, the changes might create an opportunity for the copyright industry because anything that relies on IP rights and digital trade will have additional years of protection.
While Canada moved to the U.S. standard on copyright, it did not agree to a provision of 10 years for data protection for biologic drugs. The agreement allows pharma companies to retain an eight-year exclusivity, in line with the terms of the Comprehensive and Progressive Trans-Pacific Partnership.
Canadian governments get a reprieve from investor lawsuits
Another significant gain for Canada is the elimination of the former Chapter 11 investor-state dispute settlement between the U.S. and Canada, where foreign companies could sue the government over policy measures perceived to be unfair or discriminatory.
"It was the United States that wanted to get rid of it, but Canada basically experienced the most hardship (during the NAFTA era)," says Aaron Ogletree, the Detroit-based Chair of the CBA's International Law Section. "During that time frame, Canada had to pay out more than $300 million to U.S. corporations."
"That's a very positive thing for Canada generally because I think it was being abused," says Albrecht. "That's an impact on lawyers, by the way. There was a small industry of lawyers that focused on the old chapter 11 cases."
Richard Wagner, a senior partner at Norton Rose Fulbright in Ottawa, also notes that there may be fewer opportunities for lawyers on arbitration files.
Meanwhile, Canada preserved the binational panel dispute settlement provision to review trade remedy dispute, seen as a must-have in the negotiations to address countervailing and anti-dumping duties.
Other changes
Regional value content: In addition to automobiles, North American content requirements are scheduled to come into effect for textiles and apparel, chemicals and "steel-intensive" goods.
Special measures: Steel quotas and countervailing duties remain weapons that the US administration could use to impose trade restrictions outside of the CUSMA. "Watch out for special measures," Wagner says. "Those are the big areas where you have to change your business practices, change sourcing and supply chains."
Sunset clause: Unlike NAFTA, the new agreement is a 16-year term, and it can be reopened for negotiation after six years. Ogletree says that reality needs to be considered when businesses are making longer-term plans. "The landscape could totally change," he says.
De minimis thresholds: Canada will increase its de minimis threshold for shipments to $C150 for duties and $C40 for sales taxes, an increase from C$20.
Read more on the environment chapter of CUSMA.