The practice
Young lawyers
Rethinking the job search
Firms and new recruits alike are forced to adjust to shakeup in legal job market.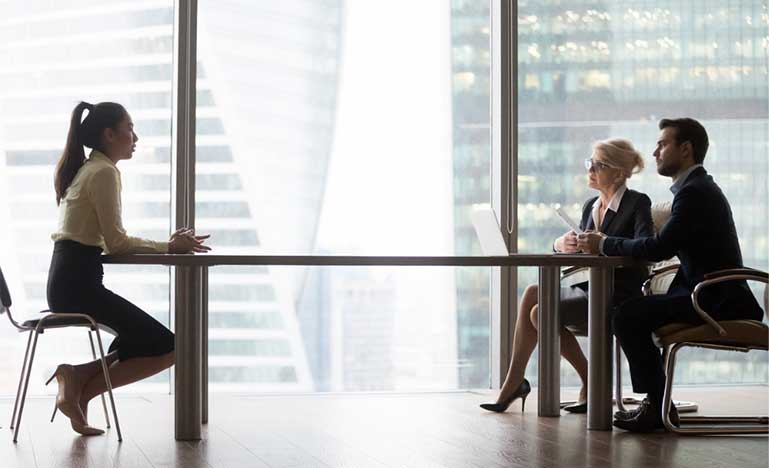 Monica Goyal remembers very well the last time her profession hit a wall. Called to the bar in 2009, she watched her fellow articling students struggle to launch careers in the midst of the Great Recession.
"I finished articling and I was lucky to do that," says Goyal, who runs her own small Toronto firm specializing in business and technology law. "Out of about 20 students I articled with, maybe three were hired back after about nine months. "It was very challenging. Not every one of my peers made it. Some moved on to other careers."
Back then, it was sub-prime mortgages and a flood of bad debt. Today, it's a pandemic. For the legal profession (and many others), the effect is the same. Business in multiple fields of law is dwindling as courtrooms struggle to adapt to a pandemic climate, and private companies dial back legal work to concentrate on building up cash reserves and securing new clients.
Law firms need to focus on finding people for the post-pandemic workplace who are as comfortable doing their jobs online as they are in person, says Martine Boucher, co-founder of Simplex Legal.
"I have a friend that does a lot of employment law and the thing she's been hearing is that the senior people, the partners, are desperate to get back to the office because that's the way they know how to do the job," she says. "Younger lawyers, meanwhile, don't feel that pressure and are content to continue working remotely.
"The other thing law firms need to do is find a way of evaluating people's performance that isn't based solely on billable hours, because that's not the best way of evaluating someone who's working remotely."
Leaky talent pipeline
For many law firms, the pandemic climate has put a kink in the talent pipeline. Some have delayed articling and summer law programs as they concentrate on keeping the people they have. Some firms have imposed short-term layoffs or cut compensation. All in all, it's not a terrific time to be a recent law school graduate trying to get a career started.
Ian Holloway, dean of the University of Calgary's law school, says the law firms he's been in contact with haven't been revoking offers to recent graduates. But he agrees that pandemic year grads are going to face headwinds.
"Some will probably struggle a bit," he says. "It's going to be a bit rougher for them."
Law firms themselves can always use a disruption like the pandemic to reconsider their hiring strategies. That is what they should be doing right now, says Sameera Sereda, a managing partner at The Counsel Network, a major Canadian legal headhunting firm.
The pressures at Canadian firms, she says, are focused on the fields that have seen a sharp drop in business: "There's not a lot going on in M&A, securities or oil and gas right now." But employment and labour law is booming, she added — a possible side-effect of the massive suite of job market supports introduced by the federal government.
"Smart law firms are thinking ahead, looking to where the business is going to be and hiring accordingly," says Sereda. "You have to have the people you need before you need them."
And just as the pandemic undercut certain sectors of law, it's expected to fuel growth in others. Sereda is expecting a boom in class action litigation, insolvency and tax law – "all those government aid programs will require considerable navigation," she notes.
Another layer of uncertainty
The shift in high-demand practice areas is of limited use to recent law school grads who might be watching near-term career opportunities dry up. Goyal points out that the legal profession was in flux before the pandemic hit, thanks to the pressures imposed by online services and firms offering competitive pricing for legal work. Those pressures, she said, are going to cut the number of people being hired for in-house corporate counsel operations going forward.
"It was changing already when the pandemic started. This is just going to accelerate that change," she says. "We have an excess of law school grads. It was already a hard situation, and now it's just next-level catastrophic.
"You're going to see [corporations] cutting staff. You're also going to see them make more use of technological approaches and alternative legal service providers."
Beyond big firms
Goyal's advice to recent grads, and to law students still a year or two away from articling, is to assume that positions with big firms are going to be harder to get — and plan accordingly.
"They'll need skills they don't necessarily get in law schools now," she says. "Things like the business of law, technology, data analytics, negotiation, financial literacy. It's the training young people should be looking for, because they may have to start practices of their own.
"They're also skills that can help reduce overhead for a law firm when you're starting out, which gives you a market advantage."
Some law schools have taken that advice to heart. The U of C, for example, sends interns into "boot camps" run by the Institute for the Future of Law Practice, a non-profit that offers young lawyers and law students training in "complementary disciplines" such as business management and data analytics.
Maryanne Forrayi, director of the career and professional development office at U of C law, also recommends young lawyers hook up with their local Canadian Bar Association chapters to access training and networking opportunities that could help them keep their options open.
"They'll be connecting with like-minded lawyers who also are keen on keeping their knowledge and skills at the forefront of the profession," she says.
Career counsellors like to tell young people to "do what they love" — that a career based on work you hate is not worth having. Sereda said that's still sound advice, even if some members of the class of 2020 have to work harder to get there.
"I would still tell people to do what they love. But they have to balance that with what's practical. This is going to be a really tough year for some. But if you're willing to be flexible and creative, there are always opportunities," says Sereda.